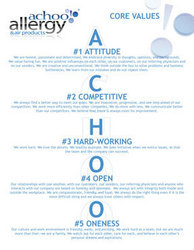 "We celebrate around our core values, for example, this quarter we are giving away an iPad to the AchooAllergy.com staff member who most embodies our first core value - Attitude," exclaimed CEO Cade McDonald.
Atlanta, GA (PRWEB) June 10, 2010
In an effort to articulate and solidify the company culture that makes AchooAllergy.com a customer service standout and a special place to work, the company has published its Core Values that reflect its core purpose of making you healthier and happier through allergy relief and environmental control:
"Attitude – We are honest, passionate and determined. We embrace diversity in thoughts, opinions, and backgrounds. We value having fun. We are positive influences on each other, on our customers, on our referring physicians and on our vendors. We are creative and unconventional. We think outside the box to solve problems and business bottlenecks. We learn from our mistakes and do not repeat them.
"Competitive – We always find a better way to meet our goals. We are innovative, progressive, and one step ahead of our competition. We work more efficiently than other companies. We do more with less. We communicate better than our competitors. We believe that there is always room for improvement.
"Hard-working – We work hard. We love the details. We lead by example. We take initiative when we notice issues, so that the team and the company can succeed.
"Open and honest relationships – Our relationships with one another, with our customers, our vendors, our referring physicians and anyone who interacts with our company are based on honesty and openness. We always act with integrity both inside and outside the workplace. We are compassionate, friendly, and loyal. We always do the right thing even if it is the more difficult thing and we always treat others with respect.
"Oneness – Our culture and work environment is friendly, warm, and exciting. We work hard as a team, but we are much more than that—we are a family. We watch out for each other, care for each, and believe in each others' personal dreams and aspirations."
Just in case you missed it, the first letters of the AchooAllergy.com core values spell out the word Achoo! Describing how the values of the company translate into customer service prowess, AchooAllergy.com founder P. Cade McDonald says, "We know that happy employees lead to happy customers. Our Core Values strengthen our overall vision of superior customer service and helping our customers cope with allergies so they can breathe better and live happier lives."
Mr. McDonald is well-acquainted with how allergies affect quality of life. He was first introduced to allergy relief products when he followed a recommendation given by an allergist ten years previously: to encase his pillow and mattress in pillow covers and mattress covers. The relief he found prompted him to open his own allergy relief products company in 2000 so he could bring similar allergy relief to thousands more.
AchooAllergy.com specializes in allergy relief products that facilitate environmental control of allergens. For almost a decade, the company has been proud to offer the widest selection of allergy relief products, all meticulously tested for quality and effectiveness. Their super-fast shipping and exceptional customer service sets them apart from their competitors and demonstrates their unwavering dedication to helping their customers breathe better.
For more information, please contact Cade McDonald, CEO at 1-800-339-7123.
# # #