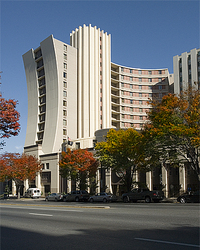 We have found that the majority of our guests prefer a non-smoking atmosphere, as such we are committed to providing our guests and associates with a smoke-free environment
Silver Spring, MD (PRWEB) June 14, 2010
The Crowne Plaza Washington DC – Silver Spring has taken one more step to "going green", effective June 14 the Hotel will be 100% non-smoking.
Located one mile north of Washington, DC in Silver Spring MD, the Crowne Plaza Washington-DC Silver Spring has implemented a 100% non-smoking environment in all 231 guest rooms and 17,000 sq feet of meeting space
General Manager, Earl Raven states, "We have found that the majority of our guests prefer a non-smoking atmosphere, as such we are committed to providing our guests and associates with a smoke-free environment that promotes fresh smelling rooms, meeting space and dining facilities."
In addition the American Lung Association states "Workers should breathe easy while on the job, but worksites with poor air quality put employees at risk. Healthy air in the workplace is essential for a safe work environment."
The 16 story Crowne Plaza offers 231 guest rooms and a variety of amenities including fitness center, business center and shuttle service. The River City Bar & Grille, is located in the hotel and serves breakfast, lunch and dinner with an American contemporary menu.
The Crowne Plaza Washington DC – Silver Spring is located at 8777 Georgia Avenue, Silver Spring, MD 20910. For hotel direct dial (301) 588-0900, for reservations dial (866) 829-4126
# # #