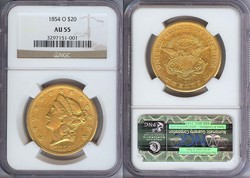 "We are fortunate to be able to handle major rarities such as this and our clients' rely upon us to continue to aggressively pursue and locate key date gold coins and assist them in completing sets and series, stated Bob Green, President of Park Avenue
Miami Beach, FL (PRWEB) June 9, 2010
Park Avenue Numismatics is pleased to announce the acquisition and sale of the one of the Finest Known examples of the rare and elusive 1854-O $20 Liberty Type 1 Double Eagle graded AU55 by NGC. The coin, worth an estimated $650,000, was sold to a Collector attempting to complete a set of $20 Liberty Head Double Eagles.
"We are fortunate to be able to handle major rarities such as this and our clients' rely upon us to continue to aggressively pursue and locate key date gold coins and assist them in completing sets and series, stated Bob Green, President of Park Avenue Numismatics. "This example was fresh to the market and when it surfaced I went after the coin without hesitation," Green continued. "Park Avenue has handled several of these key date rarities in the last decade and this is the finest I've seen Green continued." Of the 3,250 originally minted only 4 have been graded AU55 by NGC with only 2 graded finer in AU58. The 1854-O Liberty Double Eagle is one of the most important rarities in U.S. numismatics and is the second rarest New Orleans Mint Double Eagle (Only behind the 1856-O) .
There are no 1854-O Double Eagles that grade MS-60 or higher, with only a handful of AU specimens available. As such demand for properly graded 54-O's is intense according to Green. The coin is listed as one of the TOP 100 Greatest US Coins.
Park Avenue Numismatics, a Miami based rare coin firm established in 1987, specializes in Ultra Rarities, and has handled this date before including examples grading V35, XF45, AU50 and AU53 in the past decade. "Collectors contact us regularly with Key Date gold coins because of our stellar reputation in this specialized area of the market," Green continued. Other numismatic rarities acquired recently include a 1907 $10 Indian MS67 NGC, and a collection of Pre-1908 MS68 United Stated gold coins
Interested collectors and investors of rare date gold can contact Park Avenue Numismatics Monday through Friday 9am-5pm EST via toll free 800-992-9881. Website http://www.parkavenumis.com offers more than 3,000 PCGS and NGC certified coins and a wide variety of gold bullion products on-line.
# # #