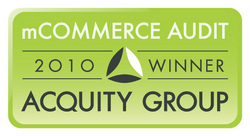 Chicago, IL (PRWEB) June 10, 2010
Acquity Group, a world leader in multi-channel commerce and digital marketing, has announced the findings of its second annual Mobile Commerce Audit, which analyzes the Internet Retailer 500 list and identifies companies and industries that are leading the charge with mobile initiatives.
This year's Top 10 Best-in-Class companies for deploying mobile initiatives include, in order of ranking: Amazon.com, Best Buy, 1-800-FLOWERS.com, Barnes & Noble, Indigo Books & Music (kobo), Sears Holdings, Overstock.com, QVC, Target and ShopNBC.com.
"This year's group of Overall Best-in-Class winners has recognized that consumers are increasingly turning to their mobile devices for information and purchases," said Tom Nawara, Acquity Group Managing Director of Digital Strategy & Design. "Their development of intuitive mobile solutions to complement their business and reach their target audience should be recognized. Companies that do not adopt a comprehensive approach to interacting with consumers and promoting their brand in a mobile environment will eventually get left behind as consumers stop appreciating entry into the space and start demanding it."
Nawara noted there have been several changes to the mobile adoption rate as compared to last year, some of which include:

The percentage of sites compatible with mobile browsers has increased, from 4% in 2009 up to 12% in 2010.
With only 1% of sites being optimized for the iPhone in 2009, this year's Mobile Audit revealed that 11% of sites are optimized for the iPhone.
In 2009, 2% of companies named to the Internet Retailer 500 list had downloadable apps for mobile devices. In 2010, that number rose to 7%.
"Several sites had either a downloadable app or a site that was compatible with a mobile browser, however very few had both," added Nawara. "So while many companies decided that it was important to have a mobile presence, it was not necessary to have both a mobile site and a downloadable app."
Other Notable Mobile Audit Findings:
Only 25% of companies tested followed the generally accepted "m." standard for their mobile sites, instead opting for Javascript alternatives or long URLs for their mobile sites. This disorganized approach leads to consumer confusion, particularly if the business does not also maintain a mobile application.
Only 12% of companies featured customer-driven mobile commerce, including the ability to check out, through mobile microbrowsers accessible on at least one operating system. Only 2% of companies offered commerce-enabled downloadable applications with check-out capability.
Only 5% of sites rendered properly on all five mobile devices.
Platforms like Google's Android, Palm's WebOS, and RIM's BlackBerry OS are viewed by businesses as supplementary to development in Apple's iPhone OS and distribution in its App Store. Of the listed sites with mobile applications, each had an iPhone application.
The Acquity Group Mobile Audit Methodology:
As a leading provider of digital marketing, interactive design, and eCommerce solutions, Acquity Group has worked with many well-known retailers to extend and redefine their cross-channel capabilities for increased profits and efficiency. Since Acquity Group is currently developing mobile commerce initiatives for various retailers as well, the company wanted to obtain a better understanding of the current level of mobile deployment by the industry.
The Audit considered all companies listed on the Internet Retailer 500 and looked at metrics across 18 different categories, which included their utilization of a .mobi top-level domain, mobile browser/device detection techniques, WAP-optimization, downloadable apps for various smartphones, and a mobile services landing page on the desktop site, among other factors. Points were assigned for device detection across five browsers (iPhone OS, Android, BlackBerry OS, Palm webOS and Windows CE) and mobile applications considered for both their catalog and checkout functionality. Mobile applications were searched for and downloaded from the respective companies' online application marketplaces, if available. The Best-in-Class companies were then identified based on total points.
The Mobile Audit findings also reveal mobile initiatives across 14 industries, of which Mass Merchandise and the Flowers/Gifts categories have the highest overall adoption.
For more information about last year's Mobile Audit, visit the web site.
Nawara, who helped to spearhead the Mobile Audit, will be speaking at this year's Internet Retailer Conference & Exhibition (IRCE) at McCormick Place in Chicago. He will be discussing mobile commerce during a workshop entitled, "Sites, apps, texts: Where to start, what to do and when to do it" held from 3:15 to 4:15 p.m. June 11. Acquity Group will also be exhibiting at the event, booth No. 550.
About Acquity Group:
Acquity Group is a world's leading multi-channel commerce and digital marketing company that helps global brands create award-winning digital experiences. Our multi-discipline approach brings together strategy, design, and technology to create brand unique experiences that build unbreakable customer relationships. Acquity Group is headquartered in Chicago, and has seven offices across the U.S. To define a unique perspective for your business, contact Acquity Group at http://www.acquitygroup.com.
About the Acquity Group Mobile Commerce Audit 2010:
The purpose of the Acquity Group Internet Retailer 500 Mobile Audit is to identify companies and industries on the leading edge of mobile-commerce initiatives. Leaders were honored with the Acquity Group Mobile Commerce Overall Best-in-Class designation. All Best-in-Class companies are leaders in recognizing this trend and initiating mobile development accordingly. For more information on the Acquity Group Mobile Commerce Audit 2010, contact Lauren Eichmann at 312-265-3089.
###