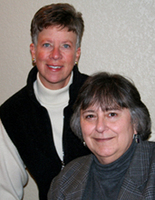 We've enjoyed lots of success as a couple of Denver's top producing real estate brokers over many years. We hope that you'll take a look at our individual biographies and give us a call/send us an email.We'd love the opportunity to serve you.
Denver, CO (PRWEB) June 11, 2010
Leading Denver real estate firm Ideal Properties of Denver has just launched a new interactive real estate investment website, http://www.IdealPropertiesOfDenver.com. Providing an easily accessible gateway to the Metro Denver real estate market, the site is a comprehensive resource for Denver real estate investments and the wealth of housing options that the region has to offer.
Formed by top-producing brokers Wendy Levy and Vicky Porter, Ideal Properties of Denver aims to provide a level of real estate service that goes beyond the ordinary. Levy, Porter and the rest of their team have years of experience in the Denver housing market, from Southeast Denver real estate to Park Hill, Denver real estate.
"We are pleased that the launch of our new site coincides with the recovery that the Denver real estate market is currently undergoing," says Levy. "It's a gradual recovery, but it certainly underscores the fact that the region's housing market in general is really quite stable."
"Denver's prospects for future, long-term growth are also excellent," adds Porter. "According to the most recent forecast from the Denver Economic Development Corporation, while unemployment will probably remain high in 2010, the contraction in unsold inventory is expected to continue and it is projected that home sales will rise as well."
Generally considered to have a more stable economy and real estate market as compared to other metro areas, Denver was ranked #7 in Forbes magazine's "Best Cities for a Housing Recovery" list. The Denver-Aurora Metropolitan Statistical Area was also ranked 6th in Forbes' list of "Cities Where the Recession is Easing."
More in-depth information on the real estate market and opportunities in Denver can be found in the firm's new website, http://www.IdealPropertiesofDenver.com.
# # #