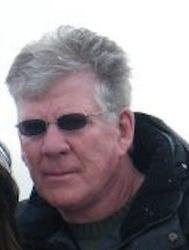 Hulagu's Web – The Presidential Pursuit of Senator Katherine Laforge
Concord, NH (Vocus) June 10, 2010
Author David Hearne was thrilled for the chance to appear on Chris Ryan's show on WKXL 1450 News Talk Radio 10:30am June 11, 2010. "It is definitely a high point of my book tour that after 70 interviews and shows across America to finally be able to discuss my novel 'Hulagu's Web – The Presidential Pursuit of Senator Katherine Laforge' here on WKXL in the capital of my home state." The fact that so much of the action in Hulagu's Web takes place in New Hampshire makes it even more important that I had this chance to talk about how the book portrays the people and communities in New Hampshire," stated Hearne.
Charlestown, NH, the town where Hearne grew up becomes center stage for much of the action in his political thriller. The novel's opening scene is a deadly attack on Senator Katherine Laforge's campaign bus occurring right outside of Charlestown, NH, on Route 12. Anyone familiar with the idyllic town of Charlestown, NH, will recognize many of the locations described in the novel. The landmark Charlestown town hall becomes an important refuge for many of the town citizens as they try to grasp the reasons behind this attack on their favorite daughter. Walpole, Keene and Bellows Falls, Vermont, are also visited in the novel.
"Hulagu's Web – The Presidential Pursuit of Senator Katherine Laforge." tells the story about a woman from New Hampshire who moves to Texas and becomes a Texas Senator. When she is called to run for the presidency she is targeted for assassination by numerous political and big business adversaries because of the draconian changes she wants to implement. The changes outlined in her campaign platform will seriously change the political landscape of America. Some even feel she is a clear and present danger to the age-old bastion of men at the helm of the United States. Book reviewer Kristine Morris of ForewordMagazine.com described David Hearne's book, "Hulagu's Web-The Presidential Pursuit of Senator Katherine Laforge", as "a ripping good political thriller."
During his appearance on Chris Ryan's show, Hearne will talk about how his novel under the guise of entertainment, investigates many issues of importance, including the motivation behind Islamic terrorism, the corruption of American politics – including the buying of congress by oil interests, the attitude toward women in positions of power, and the deliberate bungling of efforts to move America to green energy.
Chris Ryan has been covering breaking local news in Concord for WKXL and he is one of biggest sports casters in New Hampshire. He has covered three World Series, two Super Bowls, two Stanley Cup Finals and an estimated 750 professional sporting events over the last five years for various publications and radio stations. He is also becoming a political pundit in the capital area.
"One thing fictional books provide is a powerful way to educate and inform people about the world we live in. As a novelist, I can hide behind my fictional characters making them describe issues and engage the reader in ways that are impossible in normal conversations. Difficult social problems can be introduced through the lives of our imaginary characters to help arouse empathy in readers for opposing views of important issues. I guess you can say I am a closet activist," stated David Hearne.
Author David Hearne currently lives in Lumberton, TX, with his wife and daughter. He is the author of numerous magazine articles and a previous non-fiction book. His new novel titled "The Christmas Special" is scheduled for release in the fall. It is a thought provoking political thriller revolving around a series of Christmas morning terrorist attacks across America. Beside the death and destruction wrought by these attacks, the selected day of execution could darken the sacred celebration of Christ's birth for years to come. The spellbinding novel weaves together current events with fiction creating a sobering reality of an event whose actual occurrence is not that unimaginable.
Hearne's politically controversial novel "Hulagu's Web – The Presidential Pursuit of Senator Katherine Laforge" is available through Amazon.com and other venues.
If you would like to schedule a radio, print or television interview or require further information, please contact Publicist Jim King (409-748-9689) or James Burns at (409-656-4625)
# # #