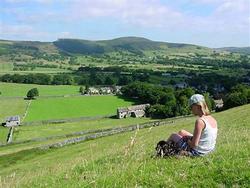 (PRWeb UK) June 11, 2010
There are a lot of reasons people may be looking closer to home for their summer holidays this year; such as seemingly unpredictable volcanic ash and an uncertain Euro zone. These factors combined with the glorious weather we've seen more of this year mean that holidaying at home looks set to be more popular than ever. Peak District Holidays in particular look set to see high numbers of holiday makers which is good news for Carbon footprints, the Peak District economy and holiday makers budgets.
UK holidays in the Peak District offer as much to do as any other family destination in Europe with the additional benefits of much cheaper traveling costs and beautiful cottage and holiday home accommodation situated in some of the most stunning scenery England has to offer.
From family walks in glorious Dovedale, a visit to the Buxton Opera House, a thrill-a-minute day at Alton Towers and the Peak District National Park there's so much to do in the Peak District in 2010 that you'll need at least a week to fit it all in. If you're looking to see what the Peak District has to offer while saving money on travel and doing your bit for the environment then booking a cottage in the Peak District is the ideal way to do so.
While tourism from the UK to other destinations has seen a slight decrease in trade over the course of 2010, bookings and searches for Peak District accommodation and attractions have seen a definite increase indicating that more and more people are keen to discover the great destinations their own country has to offer.
With world class attractions such as Chatsworth House, Haddon Hall, the Matlock Illuminations the famous gritstone edges, the Crooked Spire in Chesterfield and stylish shopping shop in the elegant town of Ashbourne it's easy to see why the number of people taking domestic holidays in the area are increasing year on year.
To discover more about staying in the Peak District this summer such as ideas for days out and where to stay please visit http://www.peakdistrict-nationalpark.com
Let's Stay Peak District Ltd is wholly owned, privately funded and operated by Mike and Bridget Cummins who live and work in Great Longstone, a village at the heart of the Peak District National Park.
# # #