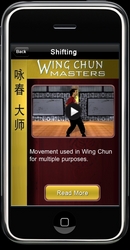 "A must-have for all martial arts fans – outstanding!"
New York, NY (PRWEB) June 14, 2010
2010 marks the 70th anniversary of Bruce Lee's birth in San Francisco, and also the release of "The Karate Kid", two events bringing renewed popular interest in Chinese martial arts.
A young Bruce Lee was one of only a handful of students to be trained in the ancient form of kung fu known as Wing Chun by Grandmaster Ip Man 60 years ago. Now, Ip Man's son, Grandmaster Ip Chun, has collaborated with Crooked Creative LLC and Buttons New York Productions to develop Wing Chun Masters, a unique educational iPhone App that introduces the fundamental movements and techniques of this most popular form of traditional kung fu.
The App raced to the top of the "New and Noteworthy" listings in two days of release with comments such as:
"This is the best martial arts App on the App Store" and "A must-have for all martial arts fans – outstanding!" and "It feels really good to see a genuine Wing Chun App that does justice to this ancient art"
Practiced in 54 countries around the world by hundreds of thousands, if not millions, of devotees, Wing Chun places emphasis on self-defense and close range combat. When you see Bruce Lee's ability to throw and control a punch within an inch of an opponent this skill comes from Wing Chun. In fact, a Wing Chung practitioner holds The Guinness Book of Records' noted speed record for the number of punches thrown and connecting with 13.5 punches a second and an astonishing 805 punches a minute! Try doing that at the gym!
According to legend, one of the Five Elders – an Abbess named Ng Mui of the Henan Shaolin Monastery in Southern China managed to survive its destruction by Qing forces during the reign of the Kangxi Emperor (1662–1722).
She fled to the White Crane Temple – and developed a form of self-defense that draws upon balance, mental sensitivity, and self-awareness rather than size or raw brute force.
For her influence she studied the movement of the animals around her, including The Crane. The cultivation of these physical qualities, and the emphasis on focus and relaxation, make it an excellent form of healthy exercise for women as well as men.
In fact, it was named after a woman, Yim Wing Chun, who brought the technique out of the temple and into the world. In need of a way to rebuff a local warlord's advances, she learned the form from Ng Mui - who created it, then later taught it to her eventual (and a bit more loving!) husband, who named it in her honor.
The Wing Chun Masters iPhone App introduces practitioners of any experience level to the mental and physical health benefits of Wing Chun through a series of nearly 60 instructional live action and animated video segments, graphics, and photographs. It also includes comprehensive text, commentary, and an interview with Grandmaster Ip Chun, who is now in his mid-eighties and still teaching.
Produced under the guidance of New York-based Master Yip Pui, who studied with Ip Chun and is the only Certificated and Ip Chun-Approved practitioner allowed to teach the pure form of Wing Chun in his/Ip Man's name, this is the only instructional Wing Chun App to offer not only an authentic distillation of more than four centuries of practice, but also a direct link to the man who introduced this martial art to the world at large.
Before he died in 1972, Ip Man filmed the Muk Yan Jong and Siu Nim Tau forms, as well as the Chum Kiu form, entrusting the footage to his sons to ensure that the pure concepts and principles be enshrined for posterity.
And this lineage and mastery are what Ip Chan and Master Yip Pui along with their partners in this modern adventure bring to this and only this App.
The Wing Chun Masters App, now available for download at the iPhone Store, offers the unique opportunity to learn this martial art in the most convenient way possible, from the palm of your hand.
And who knows - it might even save you from the odd marauding warlord or two!
Visit http://www.wingchunmasters.com for more information.
Media contact: Kevin Fetterplace at Mojo Working
Kevin (at) Mojoworking (dot) com
###