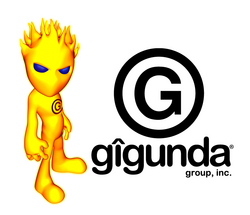 "Gigunda still gets our award for the best ideas around."
Manchester, NH (PRWEB) June 10, 2010
Editors of Event Marketer, the top industry publication for the event industry, named Gigunda Group to their "It List" of the Top 100 agencies in the country.
Gigunda was cited for their expertise in pop-up stores, sponsorship activation and mobile marketing. The editors singled out the agency's Make-A-Messterpiece program in Glenview, Illinois, as proof of Gigunda's enormous creative juices and superior execution.
According to Event Marketer, "what all of the Top 100 have in common is a boutique state of mind—an ability to scale up or down, reinvent themselves to better serve their clients and the market and produce more intimate and highly targeted programs that leverage every type of media and technology—both live and online."
Ryan Fitzsimons, CEO and Founder of Gigunda Group said he was humbled that Gigunda was among such a talented group of companies. "We work hard every day to knock it out of the park for our clients. Creativity is our currency and we spend big on every program that we execute. It's an honor to have our efforts noted by the industry's top publication. It means a lot to us."
Event Marketer's profile of Gigunda Group:
Gigunda Group
Oh Fitzy, you still got the mojo, big boy. Still gets our award for the best ideas around. If you haven't spent time with the Gigunda crew, go to makeamessterpiece.com and look at the agency's creative chops in full, unadulterated form. Part children's museum, part pop-up store, part experiential masterpiece, Gigunda has taken P&G's Bounty brand and turned it into a true destination brand. If you saw the ROI on it, you'd drool, then pass out, then drool on the floor while you were passed out.
Clients Include: P&G, Kellogg, Mars, Activision, GSK
Phone: 603-315-5000
RFP Contact: Kristi Mason, 603-315-5000, kmason@gigundagroup.com
Opened: 1994
Revenue Split: 90% B-to-C, 10% B-to-B
About Gigunda
Based in Manchester, New Hampshire, Gigunda Group is an innovative experiential marketing agency that prides itself on being idea instigators and insight experts. Gigunda has activated experiential programs such as the groundbreaking Charmin Restrooms campaign in New York City and Tide Loads of Hope. In addition to P&G, Gigunda's client roster includes brands such as Sony, Yahoo, Activision, Kellogg's, Nike, GlaxoSmithKline, Mars Snackfood and Stanley.
In 2008, Promo Magazine named them the most creative agency in the United States. The company has won more than 60 industry awards since 2007 and was honored with the prestigious P&G Family Care Inspiration Award in 2006.
###