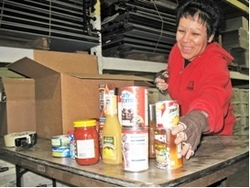 We thank everyone who participated in this year's drive. We are proud to serve the community and families in need by providing VOA with the single largest food donation for the year
Denver, Colorado (Vocus) June 11, 2010
The 10th Annual Arc Thrift Stores "Feed Colorado" brought in a record breaking 127 tons of food – fifteen more tons of food than the 2009 drive. Arc Thrift Stores will deliver the non-perishable food to Volunteers of America's City Harvest Food Bank, 2600 Larimer, Denver, CO 80205 on Saturday, June 12, 2010 at 9:00am. This enormous shipment will require nine semi-trucks and VOA's City Harvest Food Bank will distribute the food to over 75 local food banks and shelters all at no charge.
The need for food is staggering: 17,000 households in Colorado are food insecure. The current economic climate requires more donations to assist the growing number of hungry families throughout the Colorado Front Range. "We thank everyone who participated in this year's drive. We are proud to serve the community and families in need by providing VOA with the single largest food donation for the year," said Lloyd Lewis, President/CEO of Arc Thrift Stores.
Arc Thrift Store's call center employees spearheaded the six-week food drive. As they made their usual calls for donations of clothing and household items, they reminded donors that they could also donate food items to the Volunteers of America. With this simple suggestion, over 70,000 households participated in the drive.
Thousands of other people participated by dropping off non-perishable food at Big O Tires, Papa John's Pizza, Belfor Restoration, Steve Casey's Four Seasons RV, Colorado Capital Bank and Avocet Communications.
About Arc Thrift Stores: Arc Thrift Stores http://www.arcthrift.org operates 19 thrift stores throughout Colorado and provides funding to Arc Chapters, which in turn provide advocacy for people with developmental disabilities. Arc Thrift Stores is one of the largest employers of individuals with developmental disabilities in the State of Colorado.
About VOA: Volunteers of America is a national, nonprofit, faith-based organization that is dedicated to helping those in need rebuild their lives and reach their full potential. In Colorado, the Volunteers of America administers 30 different human service programs in addition to subsidized housing and health care. The Volunteers of America Colorado Branch helped over 180,000 individuals during 2009 including the frail elderly, at-risk youth, victims of domestic violence and homeless individuals and families. To learn more about the Volunteers of America, visit http://www.voacolorado.org.
Contact: Lori Sutorius Jones
Phone: 303-678-7102
Cell: 303-981-2328
lori(at)avocetcommunications(dot)com
###