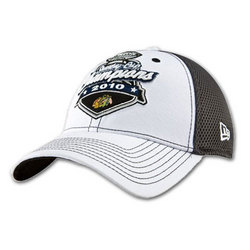 (PRWEB) June 10, 2010
Patrick Kane's dramatic overtime goal clinched a 4-3 win over the Philadelphia Flyers, representing the Chicago Blackhawks first Stanley Cup Championship since 1961.
The Blackhawks immediately donned their Official Stanley Cup Champions Locker Room Hats as they paraded the Stanley Cup around the ice and celebrated their historic win. Within minutes of the victory, IceJerseys.com was offering official Stanley Cup Champions merchandise for sale on their web site. Hockey fans can celebrate the Chicago win by ordering the official Chicago Blackhawks 2010 Stanley Cup Champions Locker Room Cap and the Chicago Blackhawks 2010 Stanley Cup Champs Locker Room T-Shirt in addition to a number of other Blackhawks championship items. The selection of Blackhawks merchandise available from IceJerseys.com includes official Chicago Blackhawks jerseys, caps, t-shirts, and even a number of 24KT Gold Plated Coin Photo Mint framed prints of various Blackhawks players.
About IceJerseys.com
IceJerseys.com is the leading hockey fan shop offering a huge selection of NHL, vintage & international jerseys, and hockey apparel. IceJerseys is also renowned for their authentic pro-style jersey customization.
###