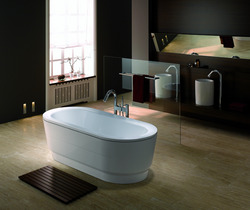 Indianapolis, IN (PRWEB) June 11, 2010
A long, relaxing bath becomes a recreation destination when paired with a book, a glass of wine and an aromatherapy candle… until lack of storage paired with imbalance results in a soggy book and wine in the water. Kaldewei has solved this problem with a new freestanding bath model - the Klassikduo Oval Wide. The new tub features an especially wide bath rim, creating a resting place for bathing accessories and eliminating the need for the side tables commonly seen with freestanding bathtubs.
Freestanding baths create visual highlights and provide individual design freedom but most of them have narrow rims making homeowners clutter their bathrooms with extra shelves and side tables. The wide, flat rim of the Klassikduo Oval Wide easily accommodates candles, a book, a wine glass (or two).
The Klassikduo Oval Wide is available with elegant one-piece panelling. This emphasizes the high design standard, harmonizes perfectly with the classic form of the bath and provides complete freedom when positioning the bath in the room.
With its generous dimensions of 70 inches x 31.5 inches, the Klassikduo Oval Wide is spacious enough to bath alone or with a partner. This design and other Kaldewei duo bathtubs feature two identical back rests and a central drain inviting bathers to share a luxurious bath.
Like all Kaldewei bathtubs and shower trays, the Klassikduo Oval Wide is made with Kaldewei steel enamel3.5mm, an exclusive material with the highest degree of abrasion, scratch and impact resistance. For reasons of quality control, Kaldewei produces the enamel itself and the company is so sure of the quality of its products that it gives a full 30-year guarantee on its bathtubs and shower trays.
Timeless, balanced form combined with individual design freedom: the Kaldewei Klassikduo Oval Wide gives every bathroom its very own character.
About Kaldewei
The Kaldewei brand stands for superior quality, discriminating design and creative solutions for the bathroom. The company began in 1918, under Franz Kaldewei, and, in 1958, produced the world's first "seamless" bathtub. Kaldewei maintains a tradition for innovation that has made it the leading bath manufacturer in Europe with a product range of more than 300 baths and shower trays and designs created by the Italian design studio Sottsass Associati in Milan, Phoenix Design in Stuttgart/Tokyo and in-house. The company's commitment to quality and durability is reflected in a 30-year guarantee on all Kaldewei steel enamel baths and shower trays. The enameled steel is 100 percent recyclable and Kaldewei's sound environmental approach to manufactur-ing, packaging, shipping and disposal makes the products particularly interesting for ecological, sustainable building projects. Kaldewei is family owned and operated and headquartered in Ahlen, Germany.
###