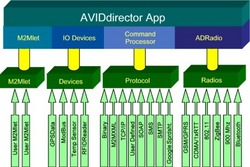 We recognize that most M2M customers have unique needs that require custom applications and often custom hardware.
Bedford, TX (PRWEB) June 15, 2010
AVIDwireless®, a leading provider of Machine-to-Machine (M2M) solutions, offers a full cloud-based plug-and-play solution for connected devices. AVIDwireless' solutions are all designed to provide the best out-of-box experience in the M2M industry. Rod Montrose CEO and founder of AVIDwireless states "We recognize that most M2M customers have unique needs that require custom applications and often custom hardware. We have addressed this by offering solutions that provide the customer with the ability to plug in our controller, connect their equipment, machines or sensors and log on a web portal to immediately view readings and control their equipment via a single cloud based system."
These solutions are aimed at saving time and money for large and small companies in multiple industries. Each delivery comes completely configured for the specific needs of each customer. The AVIDdirector™ controller, which is the heart of the system at the remote site, follows user configurable rules to monitor and send information to the cloud-based web-monitoring server through cellular, satellite, or other standardized network protocols.
For those customers that wish to further customize their M2M applications AVIDwireless has an open source Java framework that allows developers to quickly add additional functionality to the system. User written applications can be downloaded and run, similar to the way apps are downloaded and run on Smartphones. The AVIDM2MFramework™ provides a "plug-in" framework to allow applications, sensors, protocols and radios to be dynamically loaded and operated on the device. Most M2M devices have a fixed operation with limited, pre-programmed functionality. However, with the open source AVIDM2MFramework the user can quickly build new custom applications to handle their specific needs then download them to live devices in the field.
M2M applications are much different than standard Smartphone applications in that hardware interfacing is often a significant component of the final solution. Traditional M2M devices typically have a fixed hardware configuration that must be modified at considerable expense either by going on site to add new features, purchasing devices with new functionality or returning the device to the provider to add the new functionality. The AVIDdirector-M2M's unique use of a Cypress Microsystem's PSoC® Mixed Signal Processor allows dynamic hardware configuration of the device. In essence, hardware can be delivered wirelessly to remote devices (Hardware Over-the-Air HWOTA™) configurability.
Another feature of AVIDwireless' plug-and-play deliverable are the AVIDSmartSensors™ (small, wireless sensors), which further solve the hardware-interfacing problem by allowing users to connect the devices to their hardware, and interface with the AVIDdirector controller. The controller applications automatically recognize the sensors and configure them to report readings immediately. This provides customers a huge cost saving in that it does not require hardware wiring of sensors or additional infrastructure. There are many of these sensors to choose from including temperature, humidity, pulse counters, analog to digital converters, power monitors, etc.
AVIDwireless has taken the plug-and-play flexibility an additional step by adding a configurable back-end platform, AVIDdashboard™. AVIDdashboard completes the full spectrum of the solutions by providing the communications from the connected devices to the people. AVIDdashboard gives the user an ability to configure the application to meet their specific needs. Options such as what devices to monitor, how to monitor them, what alerts (text or email) to send, who should receive the alerts, plus easy to use reports and graphs etc. are quickly configured via a user friendly cloud-based application.
All AVIDwireless products are built on years of experience in working with companies all over the world to configure and deliver the best wireless solutions to their specific industry. With a full plug-and-play solution available customers can more easily adapt wireless technology to their current processes, which brings real-time information directly to the people who need to make critical decisions at just the right moment.
For more information on the AVIDwireless solution for oil and gas visit their website at http://www.avidwireless.com.
About AVIDwireless
AVIDwireless, a division of VoiceDataWare, Inc. has fast become the company that corporations turn to for delivering solutions that connect business with remote and mobile equipment and assets. AVIDwireless a recipient of 2009 Inc. Magazine 500|5000 award, the M2M 100 for the last five years and the Dallas Top 100 Fastest Growing Companies for 2 years, is located in Bedford, Texas, a suburb of Dallas/Fort Worth. AVIDwireless provides a cohesive product line of solutions focused on connected devices. All AVIDwireless solutions are built around a standard set of products: AVIDdirector®, AVIDdashboard™ and AVIDSmartSensors™. These products are utilized to provide customers with a rapid return on investment along with the means to provide more informed and faster decisions. Further information about AVIDwireless products and services can be found at http://www.avidwireless.com.
# # #