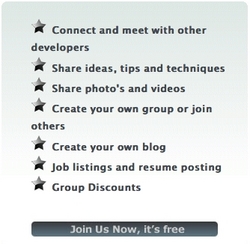 The website iPhoneDevelopersNetwork.com can best be described as a "combination of "Facebook, Craigslist and Monster.com", stated the website's creator, Gerald Bailey.
Round Rock, TX (PRWEB) June 10, 2010
iPhone Developers Network hopes to build an online social home for the iPhone app industry. The website offers users the opportunity to collaborate with industry insiders to exchange ideas, seek out assistance, and expand their knowledge base.
The website can best be described as a "combination of "Facebook and Craigslist", stated the website's creator, Gerald Bailey. Where there are similarities, iPhoneDevelopersNetwork.com strives to propel an industry by giving its users ample networking opportunities. One of the networking options for users is the job board; where iPhone app developers and producers can post their current job openings to find the best and brightest in the industry. Conversely, users can seek out highly sought after industry positions or find entry level jobs for those looking to break into the industry.
The website's forum section is another way for users to interact with fellow iPhone industry members. In the forum, users have the ability to pose questions on their latest project, whether it's software or hardware related, accounting and legal issues, and any app development, production, or artistic questions they may have.
Some additional uses for the iPhoneDevelopersNetwork.com include:

Ability to write and share articles
Community association through friend and group requests
Latest news related to iPhone, iPad, and iTouch
Events calendar for upcoming events, searchable by area or venue
The sharing of videos, photos, and ideas with your friends and groups
Promote and create a buzz around new apps or hardware such as iPhone 4
Discounts on merchandise and services
The website, iPhoneDevelopersNetwork.com, is available now and is completely free (some features require free registration). The intention of iPhoneDevelopersNetwork.com is to create a social network where App developers, artists, and producers can share thoughts, ideas, and information to help the iPhone app industry continue to grow.
For more information about iPhoneDevelopersNetwork.com please email gbailey(at)iphonedevelopersnetwork.com or visit the website yourself and pose your questions and/or feedback in the forum.
###