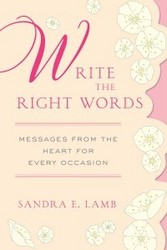 "This is an essential guide and inspiration for those of us who want to strike just the right chord in our communications with others. ...a sensitive, informative book." --Timothy Harper, CUNY Graduate School of Journalism
Denver, CO (PRWEB) June 11, 2010
Sandra E. Lamb, lifestyle and etiquette expert and award-winning author, offers sage advice on how to create the best Father's Day ever, without spending a lot. Lamb also talks about how to tell Dad that he's the best, in words that will melt his heart, based on her new book, Write the Right Words.
Talking Points:
1. Q. No budget?
1. A. The best gift for Dad this Father's Day is the "Love Coupon" that requires only a bit of paper, some crayons, and a lot of love to make some loving memories of this special day. Mom and the kids just need to come up with some great gift ideas the kids can write in. What about a promise to polish Dad's shoes, clean his workshop, take out the garbage, or pack a lunch for a fly fishing day? Your kids will come up with some perfect ideas for their dad.
2. Q. What about a very special message for Dad?
2. A. Instead of buying a greeting card, you might want to use photos or print some out of your favorite "Dad" moments from the past year, and write your own very special message expressing how great Dad is. Focus on him. Start with one of his attributes, then give an example.
3.Q. How can we start a Father's Day annual tradition that includes Grandpa, too?
3.A. Warm family memories are often about traditions. They don't need to be anything spectacular, or take a casting crew and big screen budget to produce. How about an annual backyard barbecue, a picnic in the park, or a family softball game, or even horseshoes. Make your own special family traditions from of Sandra Lamb's suggestions.
4.Q. Can you name a few more gift ideas?
4. A. Special day trips with the kids, like a ball game, or trip to the zoo will be some of the best gifts.
5.Q. What can the whole family do to instill Dad's spirit of giving to those in need?
5. A. Combining the very special day with a family Father's Day gift to somewhere like WorldVisionGifts.org can be the best way to both create a family tradition and put special and lasting heart and spirit into Father's Day.
###