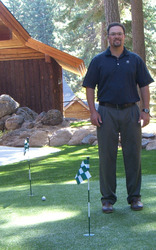 Weather permitting, people live outside here as much as possible, and our affordable, low-maintenance products will be very attractive to Sierra families.
Truckee, CA (PRWEB) June 12, 2010
Local outdoorsman Aaron Atkins, 35, is confident his new business offers the region's homeowners perfect solutions for new landscape and maintenance challenges due to the surrounding arid climate where the rolling Sierra valleys transcend the mountain ranges of western Nevada and eastern California.
Atkins, a former Alpine ski coach at the University of Utah, and currently athletic director for the Sugar Bowl Ski Academy in his hometown, Truckee, CA. is the managing partner/owner of IntelliTurf of Sierra, a new affiliate of the Atlanta-based parent IntelliTurf, Inc. national franchise organization.
His aspiring "green" business, Atkins asserted, will offer homeowners up to 60 different styles of in-fill artificial lawn turf technology – basically outdoor carpet products – including custom design and installation of low-maintenance, beautiful lush green lawns, backyards and other outdoor recreational uses.
"Our business territory covers a radius of almost 80 miles with over 1.3 million residents. Weather permitting, people live outside here as much as possible, and our affordable, low-maintenance products will be very attractive to Sierra families," Atkins said.
In addition to residential lawns and backyards, the IntelliTurf partnership also offers its clients from coast to coast a wide range of other artificial turf uses, including playgrounds for children, bocce and croquet courts, and private putting greens.
Located in Truckee, the middle of Atkins' territory near the California/ Nevada state line, the IntelliTurf market extends southwest toward Sacramento and north and southeast to Sparks, Reno, Carson City, and South Lake Tahoe in Nevada. The smaller communities between the metropolitan areas in both states are included in the new synthetic turf firm's marketing plan.
For his part, Atkins emphasized the healthy recreational outdoor lifestyle in the demographic area in which he will build his business as a "major addition to the healthy lifestyles and green movement of the IntelliTurf family."
Research of the area shows golf courses and retirement communities abound, and residents are "cost- conscious" regarding their homes and properties -- backyards in particular. Lawn irrigation and maintenance present annual problems for everyone because of the arid Sierra climate with heavy snowfall each winter until late spring in May, resulting in a short growing season.
The Atkins family, including Aaron's wife Nina and son Aksel, are enjoying a new IntelliTurf 500 square foot backyard and putting green, which also provides an installed showcase turf product for potential clients to see and experience.
According to Atkins, the cost for installations run $10-14 per square foot, yet yearly maintenance fees to maintain and irrigate the average native rocky soil landscape range from $200 – 500 per year for area homeowners.
"With our program's future low-maintenance inclusion, it won't be long before the synthetic turf yard will pay for itself and become a money saver for us as well as other families," he explained.
IntelliTurf is no stranger to the Sierra region since Founder/President Stan Pennington of Atlanta was retained three years ago by national apartment mega developer A.G. Spanos to build a custom putting green to anchor the property's rear playground area within its luxury Sacramento apartment complex, Ashton Parc.
Spanos sold Ashton Parc to a New York national company, Sentinel Real Estate, in July, 2008. The putting green is still a popular amenity for the residents of the 168 one and two bedrooms property, according to a Sacramento based Sentinel executive.
"Our people who are golfers especially love the putting green, which is an attractive low-maintenance green amenity in our pool and spa area, accented with flowers along a retaining wall, palm trees and potted plants," revealed Ashton Parc's Laurel Gajate, the apartment's property manager.
According to Rick Wood, Spanos' Division Manager, California, the synthetic turf putting green as a trendy landscape amenity evolved over the past several years. This low maintenance feature offers more value for your dollar and doesn't adversely affect operating expenses.
"City planning directors and planning staff are receptive to this type of amenity feature from multi-family developers to balance and offset impacts to their own public parks," Wood remarked.
A. G. Spanos is presently planning new luxury apartment developments within California.
"Putting greens are definitely on our amenity list because they have become more popular in the upscale rental market," Wood added.
IntelliTurf founder Pennington and Atkins are quick to agree in addition to no maintenance, IntelliTurf's line of products can be and are used year-round without being affected by local weather conditions wherever they are installed. "We have seen more and more interest in our superior playground surface in the multi-housing market, and even more in lifestyle amenities like bocce ball and croquet courts from our senior housing clients," Pennington concluded.
# # #