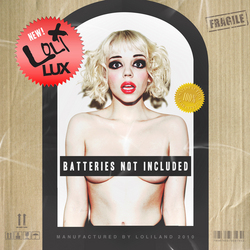 Loli Lux - Just Play It
New York, NY (PRWEB) June 14, 2010
Ladies and gentleman this is an important announcement from LoliLand, DJ Loli is DEAD.
We're glad to announce our new doll, Loli Lux with new and improved plastic parts and sound. Loli Lux's "Batteries Not Included" Available July 16th, 2010.
New and improved "Deep Throat" action will have all the girls and boys and everything in-between "Wannabe" Loli Lux and live the "Lifeocracy".
Disclaimer: DJ Loli is not physically dead, deceased or departed, yet DJ Loli is no more.
Loli Lux will be producing, singing and touring in her absence with high energy live performances, DJ sets and boom boom boom beats.
Congratulations Loli on being featured on Hulu's "Best Of The Rest" segment showcasing your extraterrestrial talent, and accumulation over 1,000,000 views on Current TV, as well as, Loli's collaboration with Aerial 7, on clothing line and signature LoliLand designed headphones, just examples of Loli's metamorphosis into a global entrepreneur and phenomena.
Riding a tsunami of success from 2009's releases which peaked in Beatport Top 100 and tour dates including Tokyo, Dallas, Seoul, Switzerland, Sao Paulo, Mexico City, New York City, Los Angeles and Munich, Loli Has a vibe that Doc Johnson could not simulate.
2010 has only cemented the fact that Loli is "The Queen Of The Scene" and the world is her kingdom.
The highly anticipated new EP from Loli "Batteries Not Included" set to be released July 16th, 2010, Includes "Wannabe", "Lifeocracy" & "Deep Throat", "Batteries Not Included" taking over dance floors and DJ Sets from New York To Tokyo , From London to Ibiza.
Loli Lux - Just Play It.
"Batteries not Included" (preview at: http://loliland.tv/bni.mp3) coming to a dance floor near you summer 2010. Available on Beatport.com, Itunes.com, Amazon, HK Clubbing, Rhapsody, eMusic, MixMag, Track It Down, Play Digital, T-Mobile, Vodafone, HMV, Nokia ect...
For request and more information on Loli Lux you can visit official website or contact directly at: asa(at)loliland(dot)tv
# # #