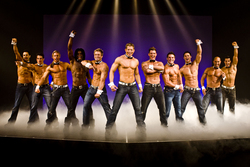 Las Vegas, NV (PRWEB) June 11, 2010
Chippendales®, the number one male revue in the world, is searching the nation for the sexiest and most talented male dancers and singers for their upcoming World Tour and Las Vegas production. The iconic dance troupe is seeking highly talented, charismatic, and incredibly fit males who can learn choreography, are confident on stage, and have the personality to meet and engage new people nightly. Are you Chippendales® material or do you know someone who is? All applicants must be 5' 11", in great shape, and have the desire to travel the world with the legendary revue.
The Chippendales® World Tour will perform in over 70 cities in Europe, Asia, South Africa, and North America from September 2010 through April 2011. The production is currently searching for lead performers, dancers and singers for 3-4 month contracts with the acclaimed production show. Selected cast members will also be photographed for the brand's international calendar. All World Tour travel expenses are covered and generous salaries available (passport required).
This talent search is an amazing opportunity for the right individuals looking to work with this reputable brand, company, and dynamic cast, and travel the world with a fully stylized and choreographed production. (This is not a strip show!)
To be considered during this phase of casting, please provide a current headshot and shirtless body shot, as well as a performance resume, if available. Applicants may also submit video links or hyper links to their websites. Please email your application to Bryan Chan, Chippendales® Director of Marketing at bchan@chippendales.com by Thursday June 17, 2010. Chippendales® will contact all potential cast members for secondary screenings by Monday June 21, 2010. Callbacks will take place in Las Vegas the week of June 28 - July 2.
Chippendales®, one of the world's most recognized brand names, is the premier provider of entertainment for women and recently celebrated its 30th Anniversary as the #1 male revue in the world. The Company produces Broadway-style shows worldwide and licenses its intellectual property for select consumer products ranging from apparel and accessories to slot machines and video games. The company also operates Chippendales.com, an on-line lifestyle and entertainment destination for women. Chippendales® was established in 1979 and has headquarters in New York, with offices in Las Vegas and London.
# # #