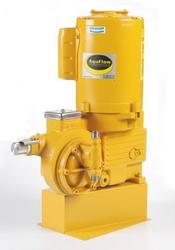 AquFlow, a leader in chemical metering pump technology for the last 38 years is poised to become the pump of choice for tough water treatment chemicals.
Irvine, CA (PRWEB) June 11, 2010
Sodium Hypochlorite, Ferric Chloride, Sodium Hydroxide, Hydrochloric acid etc. are the chemicals that are commonly used as disinfectants, coagulants, corrosion Inhibitors and neutralizing agents in a typical water treatment plant. These chemicals could be very corrosive if the right material is not selected for the liquid end of the injection pumps causing premature failures and down time. AquFlow has a fully developed line of pumps that was started in 1972 as Hydroflo. The range of materials available for liquid end in these pumps includes 316 Stainless Steel, PVC, PVDF, Hastelloy C, Alloy 20 and PTFE. When a pump is correctly matched to ensure chemical compatibility and accurate flow, the water treatment process becomes more dependable.
In addition to its traditional hydraulic diaphragm metering pumps AquFlow now has a complete line of Solenoid metering pumps as well for smaller and less heavy duty applications. While the Solenoid pumps cover the lower end of flows and pressures, the AquFlow hydraulic diaphragm pumps are predominantly used for higher pressures and flow capacity as high as 3,500 GPH. Controlling AquFlow pumps is easy with manual stroke adjustment and optional automatic electronic capacity adjuster. In addition to the stroke you can also fine tune the speed for a highly accurate flow rate. These controls are capable of taking the input 4-20 mA signal from SCADA systems. Most water treatment plants are using these to control the capacities from their computers and / or the internet.
AquFlow is going to be exhibiting at the Booth # 1782 in ACE10 trade show organized by AWWA next week in Chicago. They will display some of their pumps and the technology behind it to show why these pumps can outperform and outlast most other comparable pumps in the market today. In addition to the dosing pumps AquFlow also has the capability to manufacture entire pumping systems that include valves, storage tanks, mixers, controls etc. to spec. AquFlow Website has specifications, data sheets, manuals and dimensions of Series 1000, 2000, 3000 and 4000 pumps.
# # #