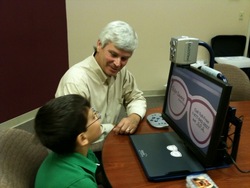 "Organizations such as these are greatly needed because they do so much for children with sight problems. The CCTV will dramatically improve Quanek's quality of life."
Chicago (PRWEB) June 11, 2010
Optelec U.S. Inc., a world leader in innovative and life changing assistive technologies for the blind and visually impaired, is forming a new alliance with Sight Savers America, a nationally-expanding not-for-profit organization that provides complete vision care for economically disadvantaged children. In support of the VisionZone initiative, Optelec's nationwide movement to promote ocular health awareness, the strength of this partnership allows these companies to fulfill the shared goal of helping children achieve the best vision-services possible.
This collaboration will kick-off with a special low vision product donation on June 13 to a child in need, Quanek Collins, a 10-year-old living with a rare ocular diagnosis of Aniridia, congenital cataracts and a cranial-facial malformation. Aniridia affects only one out of every 90,000 children in the United States.
Spectrios Institute for Low Vision, an Illinois-based not-for profit organization that provides comprehensive visual rehabilitation programs, has identified Collins as the recipient of the Optelec MultiView, a transportable and multipurpose video magnifier (CCTV) to further enhance his visual acuities which are only 10/80- OD, 10/100 OS. Collins lives with his Aunt along with his brother and sister in Riverdale, a town in southern Cook County, Illinois. He currently has limited access to assistive technology at school and is unable to afford one at home since these optical aids are not covered by health insurance.
"At Optelec we've had a long-term relationship with Spectrios Institute," stated Andre Hardy, president of Optelec U.S. Inc and VisionZone. "It means a great deal that they too are in support of our new alliance with Sight Savers America and have come forward in helping us identify a much deserving child who can benefit from Optelec's technology. VisionZone is a fast-spreading movement and we're here to make a difference."
"Quanek's Aunt is working very hard to help him do the best he can in life, as she's seen both his father and uncle cope with the same rare eye condition," stated Dr. R. Tracy Williams, executive director of Spectrios Institute for Low Vision and a recognized national leader in the field of low vision. "With the help of his special education vision teacher and our low vision specialist Dr. Mary Fritz Jordan, we selected Quanek because we believe Optelec's technology would enable him to achieve his full potential in school."
Collins is just finishing the fourth grade and loves basketball, playing chess, drawing, and watching TV and by using the Optelec MultiView CCTV, valued at $2,395, he can better pursue these hobbies and expand his interest and studies.
The newly formed alliance between Optelec and Sight Savers America will further enhance the VisionZone initiative to better educate the public about the importance of ocular health and resources available. It provides a blended, interactive experience through VisionZone LIVE and VisionZone.org, both aimed at bridging the gap between eye disease, prevention, awareness and product solutions.
"Our partnership with Optelec is a huge building block in the Sight Savers' national expansion program now underway," Sight Savers America Founder and President/CEO, Jeff Haddox. "Our hallmark at Sight Savers is to put high-tech vision aids into the homes of as many visually impaired children as possible based on recommendations from low vision specialists. When children with low vision have immediate access to this sophisticated technology they are motivated to become more independent, lead more normal lives, and to do things they would never have dreamed possible before."
The Optelec MultiView product donation will occur on Sunday, June 13 at the VisionZone LIVE exhibition, in conjunction with the Chicago VisionWalk, a signature fundraising event for the Foundation Fighting Blindness. Foundation Fighting Blindness is the largest non-governmental funder of research for retinal eye diseases in the world and another instrumental partner in the VisionZone initiative.
Representatives from each organization will be on-site in the VisionZone LIVE tent at the Chicago VisionWalk, held at Soldier Stadium, 1410 S. Museum Campus Drive. The Optelec MultiView product donation and demonstration to Collins will occur at 11:30 a.m. with the Chicago VisionWalk registration starting at 9 a.m. and walk beginning at 10 a.m. All activities are open to the public and community participation is encouraged.
Early detection of vision problems is a serious issue as more than 16 million Americans today report some form of visual impairment and that number is expected to double by 2030. The success rate of certain treatments for children can change from 90 percent before age six to an alarming 10 percent after age nine. It is estimated that nearly 25 percent of school-age children have vision problems and studies report that many preschool and school-age children are not receiving proper professional eye and vision care.
"The partnership formed by Sight Savers America and Optelec has truly been a total blessing to Quanek," stated Shamyetta Mackey, Collins' Aunt. "Organizations such as these are greatly needed because they do so much for children with sight problems. The CCTV will dramatically improve Quanek's quality of life."
For more information, please visit http://www.VisionZone.org, http://www.Optelec.com, http://www.SightSaversAmerica.org, and http://www.Spectrios.org.
About VisionZone
"Connect. Learn. Live. Solutions for Ocular Health." VisionZone is the low vision community's first live and virtual eye-health resource designed to bridge the gap between eye disease, prevention, awareness and product solutions. VisionZone LIVE and VisionZone.org connect the eye care, visually impaired and caretaker communities through a blended interactive experience and major corporate and non-profit partners, including Optelec U.S. Inc., which is spearheading the movement. For more information, visit VisionZone.org and follow @VisionZoneOrg on Twitter, Facebook and YouTube.
About Optelec U.S. Inc.
Optelec U.S. Inc. was founded in 1985 and is recognized as the worldwide market leader in providing innovative solutions for the blind, visually impaired and learning disabled. In January 2007, Tieman U.S., Holding Company to Optelec US Inc., spun off ShopLowVision.com as a subsidiary company to provide a one-stop-shop for optical, non-optical and daily living aids for eye care professionals and consumers. In 2010, VisionZone was created as a national awareness campaign for ocular health. For more information, visit Optelec.com and follow @Optelec on Twitter, Facebook and YouTube.
About Sight Savers America
Sight Savers America is a non-profit organization spreading the gift of sight to disadvantaged children, currently throughout Alabama and Mississippi and expanding nationally. In coordination with a network of volunteer eye care professionals, Sight Savers America is able to purchase necessary treatments from eye glasses to surgery to advanced vision aids at no cost to eligible families. Sight Savers also provides technologically advanced sight-enhancing devices for children with low vision and for those who are blind. The Sight Savers personal case management eye care service has become the benchmark for the industry. For more information, visit SightSaversAmerica.org.
About Spectrios Institute for Low Vision
Founded in 1986, Spectrios Institute for Low Vision®, formerly Deicke Center for Visual Rehabilitation, is a nationally accredited not-for-profit organization providing a comprehensive visual rehabilitation program to people for all ages. Serving over 1500 individuals annually, our comprehensive program includes a low vision evaluation, counseling, teaching the skills of daily living and the use of adaptive/assistive technology to maximize vision. In addition, Spectrios Institute evaluates the newest methods and technology for aiding people with low vision and trains physicians in the highly specialized field of low vision care. Spectrios Institute is led by executive director, R. Tracy Williams, O.D., a recognized national leader in the field of low vision. For more information, visit Spectrios.org.
# # #