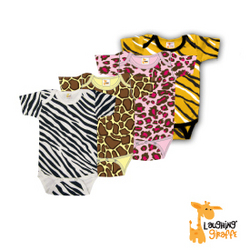 "Animal print clothing for those cute kids living on the wild side!"
Santa Ana, CA (PRWEB) June 12, 2010
Animal print infant clothing added to Californian-based The Laughing Giraffe ® children's clothing line.
"Animal prints are an ideal way to bring a taste of the jungle to every child's wardrobe. These baby animal prints make the perfect gift for Infants and Toddlers! Everyone will experience the stunning beauty of these animals and the children wearing them," says Melissa Benson
Giraffe, leopard, zebra and tiger printed onezies are made from 100% Cotton and are available in sizes: 0-3, 3-6, 6-12 & 12-18 months. In addition The Laughing Giraffe ® offers matching beanie hats in 3 sizes putting little one's heads and shoulders above the rest of the pack or herd! T-shirts are available for the big brothers and sisters who want to lead the pride or herd (2/3/4/5T).
The similarities between these beautiful baby animals and cute human babies are many (cute, beautiful and unpredictable).
Some differences however are:

The baby giraffe measures approx 6 ft when it is born.
According to folk tale, the zebra was once all white but got its black stripes after a fight with a baboon over a waterhole. After kicking the baboon so hard the zebra lost his balance and tripped over a fire and the fire sticks left scorches mark all over its white coat!
At one year of age the baby leopard can fend for themselves, but they remain with mom for up to 24 months
The tiger is the largest of the cat family and can grow up to 11 ft in length and 600 pounds !
"Kids' boutique stores, safari stores, zoos, Halloween retailers - will eat these animal prints up!" says Benson.
# # #