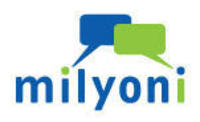 Milyoni has enabled us to reach a vast new consumer audience of coffee and tea connoisseurs through Facebook
San Francisco, CA (Vocus) June 11, 2010
Milyoni, Inc, the leading Facebook app for ecommerce, is pleased to announce that our first customer, Equator Coffees and Teas, will be sharing their successful experience with their Facebook store at IRCE, the Internet Retailers Conference & Exhibition in Chicago on June 11, 2010. David Pohl, Equator's head roaster and social merchandiser, will discuss how he has converted their growing base of Facebook fans into online customers and viral promoters of their premium coffees and teas. Visit Equator's Facebook Store and enjoy their award winning beverages.
"Milyoni has enabled us to reach a vast new consumer audience of coffee and tea connoisseurs through Facebook" said David Pohl, Head Roaster, Equator Coffees and Teas. "Our customers have traditionally been on the west coast. The viral nature of Milyoni's Conversational Commerce™ solution has enabled us to reach a new national base of online fans and ultimately convert them to buyers of our specialty coffees and teas."
Milyoni (pronounced 'million-eye') has created a new social shopping experience within Facebook called Conversational Commerce™. Conversational Commerce™ provides Equator and other merchants with tools and technology to engage fans and provide them with the opportunity to conveniently purchase products without ever leaving Facebook. Milyoni has several Facebook stores in production today representing a total commerce network of over 4.5 million fans, the largest in the industry.
Milyoni is offering an IRCE show special of $999 for an all-inclusive one-year deal for the Express Edition of the Facebook store solution. Implementation, monthly service fees and transaction fees are included in this limited offer for Internet retailers and direct merchants seeking to tap into the unique opportunity of selling on Facebook. This offer expires June 18, 2010.
To learn more about Milyoni or to get more information on the IRCE show special, please contact us or visit our website
About Equator Coffees & Teas
San Rafael, CA-based Equator Coffees & Teas (http://www.EquatorCoffees.com) is a coffee roaster, tea purveyor and coffee farm owner offering distinctive micro-lot coffees and rare teas to fine restaurants, hotels and retailers. Obsessive attention to green coffee sourcing, uncompromising roasting expertise and a 15-year commitment to sustainability create a remarkable experience in every cup. A women-owned green business, Equator works tirelessly to empower every link of the supply chain, from growers and their communities around the globe, to the natural environment, through to coffee-lovers who savor taste and integrity in their Organic, Fair Trade, and Rainforest Alliance Certified coffees. Ahead of the curve on climate change, Equator is proud to be one of the first companies in the nation to utilize the Loring Roaster, which reduces carbon emissions by 80% without compromising artisan quality. Equator has won numerous awards including Roast Magazine's Roaster of the Year (2010), Inc. 5000 Fastest Growing Business (2009), National Association of Women Business Owners – Trail Blazer Award, San Francisco's Top 100 Fastest Growing Woman Owned Businesses (7 years in a row) and the Specialty Coffee Association's annual Roasters Choice Award (2009). Customers include the French Laundry, Bouchon Restaurants and Bakeries, Citizen Cake, Tavern in Los Angeles, Bay Bread and La Boulange.
About Milyoni
Milyoni, Inc., based in the San Francisco Bay Area, is the developer of a new Facebook app that marries social networking with ecommerce. With over 400 million users and the number one destination on the web, Facebook offers a new opportunity to extend customer loyalty and increase revenue. Milyoni has seized the opportunity by creating the first shopping cart that operates entirely within Facebook and enhanced it with features that makes shopping seamless to the social experience. We call it Conversational Commerce® and it delivers the best ROI in social media. After just a few short months on the market, we have reach over 4.5 million fans from several customers including the NBA, The Onion, John Elway, Equator Coffees, Cowgirl Creamery and more. Visit us at milyoni.com
###