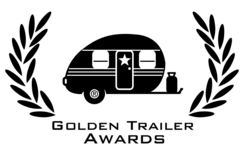 I did my futhermuckin' best to keep this show clean.
Los Angeles, CA (PRWEB) June 11, 2010
On the stage of the El Rey Theatre in Los Angeles last night, in front of a sold-out house, some of the funniest comedians in the business honored and roasted the best movie trailers of 2010 at the11th Annual Golden Trailer Awards, while somehow managing to keep swearing down to four curses in an hour and a half. That this might be a feat worth noting stems from the fact that one of the presenters, Jordan Rubin, is also one of the producers of this year's infamously potty-mouthed MTV Movie Awards. The Golden Trailer Awards show was hosted for the second year by comedian/actor Dean Edwards ("Saturday Night Live"), who said "I did my futhermuckin' best to keep this show clean."
Among the winners were ""Sherlock Holmes" for Best Action, "District 9" for Best Thriller, "Knight and Day" for Summer 2010 Blockbuster and "Brothers" for Best Drama. The two distinctions especially cherished by trailer cutters, the Golden Fleece Award (celebrating the best trailer for a bad movie) and Trashiest Trailer (self-explanatory), were won respectively for "Bad Lieutenant: Port of Call New Orleans" and "Human Centipede."
For the first time ever, a documentary—Academy Award-winner "The Cove"—took the overall prize for Best in Show, along with the award for Best Documentary. Commenting on the surprise win, Evelyn Brady-Watters, co-founder and executive director of The Golden Trailer Awards, noted that "The trailer for 'The Cove" draws you into a real-life drama by using the elements of a great thriller or horror trailer. It's a heart-pounder that captivated our jury." The preview reel was created by trailer house AV Squad for Roadside Attractions/Lionsgate, the distributors that jointly released the Academy Award-winning film. Brady-Watters added, "When the Golden Trailers launched in 1999, documentaries were just starting to attract a wide audience. Now it's amazing to see a doc trailer beating back action flicks and summer blockbusters."
The Golden Trailer Awards celebrate the art, craft and fun of movie promotion, and are recognized worldwide as the top honor in the field. Sixteen of the awards were given during the live event--the "Show Categories" whose winners are listed below--, out of a total 61 categories, including sections for a full range of trophies for foreign films, posters, TV spots and film festival materials. Overall, Lionsgate triumphed for the second year running as the studio with the most wins, taking eleven Golden Trailer Awards and topping their sweep of nine in 2009. The trailer house garnering the most wins was Mark Woollen & Associates, with 10 statuettes, edging out Ignition's nine. See http://goldentrailer.com for the full list of nominees and winners.
"Across the board, 2010 was a big year for innovation. A lot of people made creative use of both new and traditional media to entertain and draw in their audiences, " said Monica Brady, co-founder and executive producer of the award show. "Some of the stand-outs include the television special "Avatar 'Planet Pandora'," which creates a rich and realistic fantasy world and won Most Innovative Advertising for a Feature Film; the winner of Most Original Poster—an eye-popping, moving lenticular poster for 'Kick-Ass'; or the trailer for 'A Serious Man,' which uses layer upon layer of sound to build an almost insane dramatic tension."
The stakes for real creativity are high and getting higher, giving the Golden Trailer Awards increasing significance in the marketplace with each passing year. It is estimated that movie trailers are streamed billions of times online each year in the U.S. alone, with an approximate ten-fold growth since 2007.
The 2010 award presenters were comedians Rich PierreLouis ("Hannah Montana," "Jesus People") making a return appearance, Stephen Glickman (Nickolodeon's "Big Time Rush," "Last Comic Standing"), Kira Soltanovich ("Girls Behaving Badly"), Rob English ("The Rob English Variety Show"), Jordan Rubin ("Comedy Central Presents Jordan Rubin," head writer "MTV Movie Awards"), Jon Daly (star of Comedy Central's upcoming "Rich Dicks"), Michaela Watkins ("Saturday Night Live," "The Back-Up Plan"), and Brett Gelman ("Comedy Central's "Motherload," Upright Citizens Brigade Theater).
This year's jury was made up of a prestigious panel of entertainment pros, including BAFTA and Emmy nominated filmmaker Edgar Wright of "Shaun of the Dead," "Hot Fuzz," and this summer's comic book movie "Scott Pilgrim Vs. The World,"; film and music video director Marc Webb, whose credits include the next "Spider-Man" film, last summer's breakout indie hit "500 Days of Summer," and music videos for artists ranging from Miley Cyrus to Green Day and Diddy; Ruth Vitale, who has headed indie film powerhouses such as First Look Pictures, Paramount Classics and Fine Line Pictures; Jeroen Bours, CEO of the Darling Agency ("Priceless" campaign for Mastercard); Jennifer Merin, President of the Alliance of Women Film Journalists and editor, writer, and critic for About.com: Documentaries, Women on Film, and Women's eNews; and writer-performer-filmmakers Andy Samberg, Akiva Shaffer, and Jorma Taccone—the Emmy winning team collectively known as "The Lonely Island"—responsible for creating more than 60 Digital Short Films for NBC's "Saturday Night Live." Additionally, the group premiered its first feature film "Hot Rod" in 2007, which Shaffer directed and co-starred in with Samberg and Taccone. Taccone is the writer-director of recently opened "MacGruber."
Sponsors for the 11th Annual Golden Trailer Awards include Position Music, Greenhaus GFX, JetBlue, Porsche and Porsche of Downtown LA, PRG, Steiner Studios, Non-stop Music, ExtremeMusic.com.
The Golden Trailer Awards were founded by sisters and co-producers Evelyn Brady-Watters and Monica Brady.
11th Annual Golden Trailer Award Winners, "Show Categories":
Best Action: Sherlock Holmes, Warner Bros., Mojo
Best Animation/Family: Shrek Forever After "Best Ever" (Trailer #2), Paramount Pictures, Aspect Ratio
Best Comedy: Get Him to the Greek "Trailer 4: The Job/Red", Universal, Workshop Creative
Best Documentary: The Cove, Roadside Attractions/Lionsgate, AV Squad
Best Drama: Brothers "Moving On/U2", Lionsgate, Seismic Productions
Best Horror: Antichrist, IFC Films, Kinetic Trailers
Best Independent: A Serious Man "Trailer 3", Focus Features, Mark Woollen & Associates
Best Music: This Is It "Domestic Trailer 1", Sony Pictures Entertainment, Create Advertising Group
Best Romance: The Young Victoria, Apparition/GK Films, Mojo
Best Thriller: District 9 "Domestic Trailer – Warning", Sony Pictures Entertainment, Create Advertising Group
Best Video Game Trailer: Rage "Rage Announce Trailer", Electronic Arts, Hammer Creative
Golden Fleece: Bad Lieutenant: Port of Call New Orleans, First Look Studios, Mob Scene
Most Original Trailer: Cemetery Junction "Teaser", Sony Pictures Entertainment, Empire Design
Summer 2010 Blockbuster Trailer: Knight and Day, 20th Century Fox, Wild Card
Trashiest Trailer: Human Centipede, IFC Films, Kinetic Trailers
Best in Show: The Cove, Roadside Attractions/Lionsgate, AV Squad
For all 61 Golden Trailer Awards, see http://www.goldentrailer.com
# # #