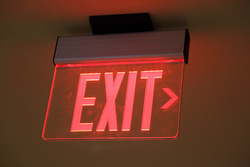 Taking the appropriate precautions to ensure a building is safe will prevent future liabilities
Minneapolis, MN (Vocus) June 11, 2010
From smoke detectors to secure doors and windows, maintaining a safe environment for tenants should top the list for commercial and apartment building owners and managers. Not only does a secure and safe building attract good tenants, building owners and managers may have obligations under a variety of codes—life safety, electrical, plumbing, boiler and building—put forth by the city or county where the property resides.
"Taking the appropriate precautions to ensure a building is safe will prevent future liabilities," says Troy Norberg, General Manager for Tru-Serve, a Minneapolis-St. Paul area property and building maintenance company. "All it takes is one problem or accident on your property to hurt your business."
Keeping a commercial or apartment building in safe condition requires an eye for detail. Having a checklist like the one below is helpful, but recognizing when a light needs replacing or a deck railing needs restoring will go a long way in maintaining a property that keeps tenants out of harm's way.
According to Norberg, there are a number of areas to be checked to ensure a protected, secure environment.
Check Smoke Detectors and Carbon Monoxide Monitors
Every six months all smoke and carbon monoxide detectors should be checked. In August 2009, Minnesota passed a law that requires all multi-family dwellings have CO detectors near all bedrooms. Also, be sure to check with the city where the property resides as each city ordinance could be different.
Check Fire Extinguishers
Fire extinguishers are commonly placed near kitchens or in hallways in case of small fires. Many times they are overlooked on safety checklists, but shouldn't be. A monthly check of fire extinguishers should include checking that the pin is in place, the pressure gauge is in the "ok" position, the hose is properly attached, that there are no dents or leaks, that it is mounted on the wall at the appropriate height, and that extinguisher has not passed the expiration date.
Test Emergency Lights
During the stormy season, emergency lights can be triggered on when the power goes out, even for a moment. This draws power from the backup batteries and can drain them over time. It's a good idea to check them regularly and to note each testing date. Just as important, check the lit exit signs monthly.
Check Exterior Lights
Many exterior lights are set with timers or use a photo cell to come on when it gets dark out. Troy routinely checks these by putting a glove over the photo cell to check the light during the daytime. Lights on timers should be checked and adjusted when needed.
Keep Hallways Clear
For easy evacuation, hallways must remain clear. Many times tenants will want to place artificial trees, floor mats, or other items in the hallways. A simple walk-through of the building can ensure that all hallways are free from items.
Check Windows and Doors
Windows and doors should be checked for safety and security routinely. Ripped or loose screens can be hazardous and should be repaired. Building owners and managers should be aware of where all doors are located and that all locks are in working order. At times, tenants can prop open doors for easy access; for the safety of all tenants, these doors need to remain closed and locked. Sliding glass doors can also be secured with strong wooden dowels or metal bars in the track so the door can't be slid open.
Ensure Decks and Railings are Secure; Grills Prohibited
Another overlooked safety risk in multi-family dwellings are decks and railings. Many times rugs or indoor-outdoor carpeting is placed on the deck, which rots out the wood over time. Any rotten wood or loose railings should be replaced. Grills are prohibited on apartment decks by law; a routine check of all decks can prevent deadly fires.
Keep Property Grounds Free from Debris
Finally, the exterior property should be safe too. Ensure that cracks in sidewalks and driveways are repaired and that fallen tree branches are cleared away.
For over two decades, Tru-Serve has been meeting the property and building maintenance needs of clients in the healthcare, residential, commercial and nonprofit industries throughout the Minneapolis and St. Paul metro area. Founded on the belief that maintenance services can be comprehensive, exceptional and provided with personalized care, Tru-Serve consistently proves itself as a top maintenance and consulting services company.
# # #