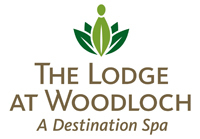 The Lodge at Woodloch is among the finest luxury spa resorts in the world.
Hawley, PA (PRWEB) June 15, 2010
The signature Tradition of Excellence and Warm Hospitality that has been the cornerstone of over 52 years of success for Woodloch Resort now extends to The Lodge at Woodloch. This unique property is an oasis for the mind, body and spirit offering state-of-the-art spa facilities, lavish amenities and a luxurious spa destination unlike any other.
The Lodge is nestled along Little Lake Teedyuskung, which translates to "healing waters" in the Lenni Lanape language. This naturally occurring aquifer incorporates underground channels that draw from the surrounding area including the powerful Delaware River.
The Lodge at Woodloch incorporates these native river stones into a classic body treatment for their natural therapeutic aura. The Lenni Lenape, indigenous Native American tribe, have known for centuries that Delaware River stones contain an energy that accelerates change and energizes one's entire aura. Delaware River stone is very conducive to the meditative state, bringing in high energy to help you make changes that can lead to deep spiritual experiences.

Warmed Delaware River stones are incorporated with classic Swedish massage techniques in this deeply relaxing full-body massage with a choice of aromatherapy oils.
75 Minutes $185
New for the upcoming summer season, a fitness "bootcamp" program as well as fruit-enhanced treatments has been added to the menu. The natural oils and antioxidants in summer fruits help to refresh, heal and renew the skin and relax muscle.

Enjoy the spirit of the summer by picking your own fruit! A customized body polish includes your choice of nectarine, pink grapefruit, or coconut to deliver much needed nutrients and skin brightening antioxidants. Next, a rich moisturizer of avocado and cocoa butters deeply hydrate the skin while delivering the uplifting scents of the summer!
50 Minutes $120
Revive hands and feet for the bare look you love with our Fruits of the Summer Manicure and Pedicure. Choose from nectarine, pink grapefruit, or coconut to deliver skin softening fruit oils and antioxidants, leaving your hands and feet feeling refreshed and renewed!
Manicure: 50 Minutes $65
Pedicure: 50 Minutes $85
Introducing The Lodge's Fit & Fab for Summer
This program is the perfect kick-start to your weight loss and fitness goals! Our experts will assess your physical and nutritional habits and create a program that integrates exercise, eating and meditation for optimum weight loss and health management. Offering 3, 5, or 7 day programs. Let our professionals assist you with an individual strategy for success during your stay and beyond!
3 Day Program - $499/day
5 Day Program - $419/day
7 Day Program - $399/day
About The Lodge at Woodloch
Opening in 2006, The Lodge at Woodloch is among the finest luxury spa resorts in the world. Designed for the sophisticated travel enthusiast, The Lodge is located just 90 miles from New York City in northeastern Pennsylvania's beautiful lake region. The Lodge creates a new style of day-to-day living through the exhilaration of exercise, mind-body techniques, inspired healthy cuisine and the beauty and wisdom of nature. Just 58 luxurious guest rooms and suites feature marble bathrooms with double granite sinks, oversized showers, private water closets, fine linens and private verandas.
The elegant 40,000 square-foot spa features 27 spacious treatment rooms, a breathtaking Aqua Garden with Hydromassage WaterWalls, horizon-edge whirlpool, state-of-the-art Cardio Weight Studio and private men's and women's retreats.
The Lodge is also an impressive facility for corporate retreats, weddings, celebrations, gatherings and is also located adjacent to The Country Club at Woodloch Springs, one of GOLF Magazine's "Finest Courses in America.
The Lodge has been remarked as:
Top 10 Destination Spas in the World ~ Travel+Leisure
Top 10 Spas in the World ~ TripAdvisor.com
Best Places to Relax in the US ~ AOL Travel
Stay List ~ National Geographic Traveler
10 Most Luxurious Spas in the US ~ Forbes
Experience One of the World's Premier Luxury Destination Spas; for more information call 866.953.8500 or visit TheLodgeAtWoodloch.com.
###