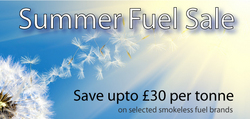 Save serious money heating your home
(PRWEB) June 11, 2010
Customers of CPL Distribution, the UK's largest coal merchants and solid fuel supplier, buying over 500kg of coal or smokeless fuel can get reductions of up to £30 per tonne and can even defer delivery until the end of September if they order by the end of August.
CPL is urging people to be one step ahead of the game this Winter by stocking up on their fuel for the colder months now, while supplies are less in demand and therefore cheaper.
Jon Carter, Marketing Manager at CPL which runs Coals2u.co.uk the UK's biggest online solid fuel retailer, said: "With Summer upon us stocking up on fuel for Winter is the last thing on many people's minds but it's precisely what we should be thinking about doing to save serious money on our heating bills, especially if we are to be hit with another harsh Winter.
"The snowy conditions that we experienced this January was the most prolonged we've had for 30 years and caused some people to be left without heating as deliveries of coal and smokeless fuel simply couldn't get to them on account of the treacherous conditions.
"Additionally we expect the price of house coal and smokeless fuel deliveries to go up in September so stocking up now for the months ahead will help people to manage their budgets and stay warm."
Notes for Editors
Terms and Conditions
Offer is valid on orders of 500kg or more of selected smokeless fuel brands and must be placed by 31st August with latest deferred delivery 30th September. Customers can order via the coals2u.co.uk website or by telephone if they prefer.
About CPL Distribution / Coals2u
CPL Distribution Limited is the largest UK Coal Merchant and solid fuel supplier with around 30 coal depots nationwide. Each local depot offers a friendly, local service to 70,000 of our regular customers.
CPL Distribution supplies an extensive range of solid fuels; namely house coal, logs and smokeless fuels to households, commercial outlets and industry too.

Royal Warrant to supply Her Majesty The Queen.
CPL produces eCoal - the UK's best eco smokeless fuel
Part of CPL Industries Group of companies
Last year CPL Industries supplied 275,000 tonnes of fuel to approximately 150,000 solid fuel customers.
Customers can order direct by coals2u.co.uk website
# # #