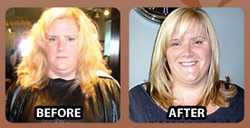 In all my years of styling, I have never seen anything like this. The results are truly amazing.
White Rock, BC (PRWEB) June 15, 2010
It's one of the hottest style secrets among in-the-know glamour icons from Hollywood to New York—and now it's available locally at an innovative White Rock salon. It's called the Brazilian Blowout, and it just may be the smoothest beauty treatment to come out of Brazil since the Brazilian Wax.
Stephanie Wright, the owner of Mystique Hair Design, has seen many hair treatment fads come and go, but she believes that this revolutionary procedure—which transforms the frizziest, most unruly hair into stunningly smooth, silky tresses—is the real deal.
"The amazing thing is," she says, "that it works on all kinds of hair. If your hair is wavy, it will make it look naturally straight and smooth. If it's curly, it will enhance and soften the curls. Straight and frizzy hair comes out looking sleek and luxuriant. And the thing is, there are no harsh chemicals or damaging relaxers involved. This treatment actually improves the health of your hair."
Sounds good. But how does the Brazilian Blowout—so named because the special solution is blow-dried in and then flat-ironed through the hair to seal it in—measure up when we ask those two ever-important questions: How easy is it to maintain, and how long does it last?
"Maintenance is not an issue," says Wright emphatically. "This is truly wash-and-wear style. You shampoo as you always do, go swimming—whatever. You don't need to spend time blow-drying or anything. The style stays locked in." And for how long? "That's the beauty of it," Wright says. "Ninety minutes in the salon gets you up to 12 weeks of perfectly soft, perfectly smooth, sexy hair."
It's a tempting idea: A whole summertime of carefree hairstyling. A rejuvenating boost to your follicle health. And a silky mane of luxuriant hair that would make Angelina Jolie turn a head with envy.
The Brazilian Blowout is available locally exclusively at Mystique Hair Design on the White Rock waterfront on Marine Drive. Call 604.542.3616
# # #