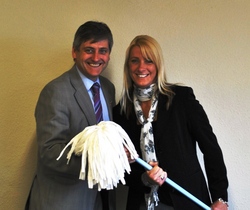 With well over 3,000 staff employed on a full or part-time basis, it is important that we provide the best possible human resources facilities for each one of them, as a local based company We Do HR will assist our present HR Team to compliment their services within the North East and across the UK
(PRWeb UK) June 12, 2010
We Do HR, which has its headquarters in Darlington, has signed a deal which will see it assist the HR team for one of the UK's renowned cleaning companies KGB Cleaning & Support Services Ltd, who manage various large & very influential contracts across the UK.
It is a significant client for the North-East business, which normally caters for small to medium sized businesses who are seeking to outsource or initiate their human resource function. And it comes shortly after the firm expanded into Canada.
Alasdair Ross, managing director of We Do HR, said: "We're proud of the links we've forged with local companies in Darlington and elsewhere in the UK, and we'll continue to provide the same bespoke service and take the time to understand their business needs. That will never change.
"But we're delighted to be working with a national company of this scale. The Northern Director approached us after seeing our website, http://www.wedohr.co.uk, and asked me to tell them more about our local services. And once we'd met they signed us up to assist with any Regional HR work.
KGB Cleaning & Support Services Ltd is a division of KGB Holdings Ltd, and director Caroline Kelly is pleased with the partnership.
"With well over 3,000 staff employed on a full or part-time basis, it is important that we provide the best possible human resources facilities for each one of them, as a local based company We Do HR will assist our present HR Team to compliment their services within the North East and across the UK," she said.
"We care about the people who work for us and We do HR are used to dealing with companies of all sizes. We were impressed with their attention to detail in all aspects of human resources and we're looking forward to a long and fruitful association."
###