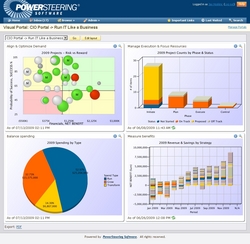 We're pleased by this recognition. We believe our ability to execute and completeness of vision are a reflection of our strong performance and the continued innovation of our Enterprise SaaS PPM software
Cambridge, MA (PRWEB) June 14, 2010
PowerSteering Software, the leading Software as a Service provider of enterprise project & portfolio management (PPM) solutions, today announced its placement in the Visionaries quadrant of Gartner's 2010 Magic Quadrant for IT Project and Portfolio Management.¹
The report, which evaluated over 30 vendors of IT PPM software, also recommends that "Initial implementation of a PPM application should be focused on providing 'just enough' PPM process to provide first-line visibility into the most critical demand, supply, and status reporting issues occurring at the project level and plaguing the internal IT department."
PowerSteering's "Just Right" configurability supports exactly such an implementation approach, enabling clients to both mirror current processes as well as mature in capability over time.
"We're pleased by this recognition. We believe our ability to execute and completeness of vision are a reflection of our strong performance and the continued innovation of our Enterprise SaaS PPM software," remarked Stephen Sharp, PowerSteering's Chief Executive Officer. "The report's conclusions about the value of just enough process and top-down portfolio management align perfectly with PowerSteering's differentiated approach for better adoption and ROI."
PowerSteering's inherently flexible PPM software easily configures to manage all three PPM scenarios referenced in the Gartner report: IT planning and control (ITPC), application portfolio management (APM), and enterprise PPM (EPPM). This adaptability allows organizations to extend portfolio management value beyond traditional IT projects, and apply it across the organization to Innovation, Product Development, Process Improvement and other enterprise initiatives.
In addition to PowerSteering's inclusion in the Visionary quadrant of the Gartner report, PowerSteering has received further industry acknowledgment as a Leader in both IT and Business-Driven PPM in the Forrester Wave for Project Portfolio Management, a recipient of Stage-Gate Ready certification by Stage-Gate International, and a winner of a Best of SaaS Showplace award.
Magic Quadrant Disclaimer
The Gartner Magic Quadrant is copyrighted 2010 by Gartner, Inc., and is reused with permission. The Magic Quadrant is a graphical representation of a marketplace at and for a specific time period. It depicts Gartner's analysis of how certain vendors measure against criteria for that marketplace, as defined by Gartner. Gartner does not endorse any vendor, product or service depicted in the Magic Quadrant, and does not advise technology users to select only those vendors placed in the "Leaders" quadrant. The Magic Quadrant is intended solely as a research tool, and is not meant to be a specific guide to action. Gartner disclaims all warranties, express or implied, with respect to this research, including any warranties of merchantability or fitness for a particular purpose.
¹Gartner, Inc., "Magic Quadrant for IT Project and Portfolio Management" by Daniel B. Stang, June 7, 2010.
About PowerSteering Software
PowerSteering Software is the leader in On-Demand Enterprise PPM software for IT, New Product Development, Six Sigma and other enterprise initiatives. Its easy-to-use software provides executives at Acosta, Department of Navy, Ingersoll Rand, Merck, Office of the Secretary of Defense, United Health Group, and over 140 other customers with executive visibility, strategy alignment, and enhanced team productivity to drive strategy and accelerate results across the enterprise. For additional information, please visit http://www.powersteeringsoftware.com or call 1-866-390-9088.
###