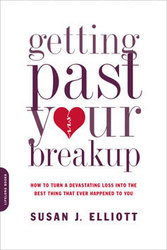 "Moving on requires a balance of tough love and compassion. It's important to know how to give it and how to get it."
New York, NY (PRWEB) June 15, 2010
GPYP Productions announces the second series of "Heartbreak Bootcamps" designed to guide and support participants as they move on from a difficult relationship breakup. The summer offering will run on Thursday evenings, in midtown, from 7:30 to 9:10 for six weeks.
First offered over the winter, the bootcamps are led by Susan Elliott, author of "Getting Past Your Breakup: How To Turn A Devastating Loss Into The Best Thing That Ever Happened To You"(DaCapo 2009).
Starting as a blog in late 2006, GPYB was selected as the best breakup book of 2009 by both About.com and YourTango (Yahoo!).com. After the book received overwhelmingly positive reviews from mainstream media and readers alike, Ms. Elliott has appeared on national and local (NYC) television and radio programs as a relationship expert and has been quoted extensively in print and internet stories. Still she believes it's important to give personal attention to those experiencing difficulties after heartbreak.
The winter bootcamps and her one-day seminars sold out quickly. Elliott explains, "I think there is a level of comfort and support in a group that isn't present when you're sitting alone reading the book. I try to teach each person not only how to get past their own loss but how to help others do the same. That way we pass it on in a number of ways. You leave here not only more healed, but also more empathic and caring about others and their heartbreak." That results in good things all around as more people become healed and help others to do the same.
For more information visit the Getting Past Your Breakup book website.
# # #