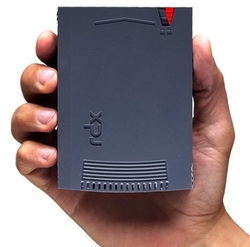 According to IDC there is phenomenal interest and projected growth in the removable disk market.
(PRWEB) June 14, 2010
The RDX® Storage Alliance today announced that BDT AG, an innovator in the technology of moving media, has become the latest partner in the RDX Storage Alliance. The RDX Storage Alliance is a non-profit professional community comprised of customers, storage professionals, industry experts, RDX vendors and partners who are committed to sharing informative and engaging RDX solutions, best practices, and practical use-cases for companies to optimize and simplify data back-up, archive, compliance and disaster recovery while reducing associated costs. Since 1967, BDT has been a major developer and manufacturer of media handling solutions and is the major tape automation systems provider to large OEMs. BDT will develop, manufacture and market multi-terabyte data storage systems based on the industry-standard RDX removable disk technology.
"BDT has a track record as an innovator in automated media handling technology," said Dan Jan, President of BDT. "RDX removable disk storage solutions are gaining significant momentum. According to IDC there is phenomenal interest and projected growth in the removable disk market. The next logical progression for us to meet customers' needs is to provide multi-cartridge storage systems based on RDX technology that will further their backup, retention, archive and restore strategy."
"We are clearly glad to have BDT become a partner of the RDX Storage Alliance and contribute their depth of knowledge to this professional community," said Karl Chen, Executive Director of the RDX Storage Alliance. "BDT has been in the media handling industry for over four decades, and a large part of that has been storage media related. They will be a great partner in bringing a balanced viewpoint to the alliance."
OEM partners of the RDX storage technology include industry leaders BDT, Dell, Fujitsu, Hitachi, HP, IBM, Imation, Maxell, NEC, ProStor Systems, and Tandberg Data. RDX removable disks are designed for portability and longevity, the rugged RDX cartridges are engineered to be durable so you can safely transport off-site while also providing the shelf life required for archival requirements.
RDX removable disk technology is a cost-effective, scalable storage solution for backup and recovery of data and images. RDX technology combines the best features of tape and disk backup, but adds portability, easy duplication, rapid random data access, compatible capacity growth, high data reliability and affordability. RDX is a flexible and easy solution for small, medium and enterprise companies and provides the data protection features they need in the easy-to-use process they need. RDX removable disk technology products provide plug and play installation and appear to computers as a standard disk drive removable media device providing easy drag and drop control and instant data retrieval.
About The RDX Storage Alliance
RDX Storage Alliance is a non-profit organization comprised of industry leading storage and technology companies and the RDX user community. The Alliance is dedicated to supporting a community of professionals responsible for the management of data protection, retention, archive, and recovery at their companies. RDX Storage Alliance supports its community of members through offering engaging content contributed by customers, partners and members, which present best practices, use cases and other information that demonstrates how companies can make data storage more efficient and reduce IT costs. For more information, contact us at rdxinfo(at)rdxstorage(dot)com or visit us at http://www.rdxstorage.com.
RDX is a trademark of The RDX Storage Alliance and ProStor Systems in the United States and/or other countries. The names of actual companies and products mentioned herein may be the trademarks of their respective owners.
# # #