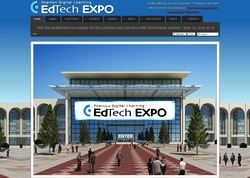 Educators, too, are always learning, increasingly through digital means. We hope our virtual EdTech Expo can help our teachers continue that learning process.
New York, NY (Vocus) June 12, 2010
Today, the education services and technology company Pearson announced the launch of its virtual EdTech Expo, a week-long, online conference that, like a traditional conference, enables America's educators to explore exhibits, attend sessions and chat with their peers and industry experts in real time. Available at http://www.PearsonSchool.com/EdEvolution, Pearson's virtual EdTech Expo opens its doors on June 14 and will provide 24-hour access to quality educational materials and online demonstrations of personalized learning solutions that are making a difference in today's classrooms.
"Education is always evolving. And today's educators need instructional services and programs that match their students' digitally-based lifestyles -- tools that don't require students to power down in the classroom or to stop learning when the school bell rings," said Karl Gustafson, senior vice president at Pearson Digital Learning. He added, "Educators, too, are always learning, increasingly through digital means. We hope our virtual EdTech Expo can help our teachers continue that learning process."
Pearson's virtual EdTech Expo will provide multiple webinars on key education topics, available live and on demand, including:
•Leading and learning with technology. Real educators will share how they effectively implement instructional technology in the classroom. This topic will be presented on Tuesday, June 15 at 12 p.m. EDT and Thursday, June 17 at 3 p.m. EDT.
•The future of educational funding. Pearson's Grants and Funding Manager Grace Stopani will highlight current funding sources for educational technology and the tools available to help school districts secure those funds. Sessions are available Tuesday, June 15 at 3 p.m. EDT and Thursday, June 17 at 12 p.m. EDT.
•Making a difference by promoting literacy, learning and great teaching. Participants will learn about how they can join The Pearson Foundation in collaborating with leading businesses, not-for-profits, and education experts to find workable solutions to the educational disadvantages facing millions of young people and adults across the globe.
In addition to these online sessions, EdTech Expo participants will be able to interact with educational technologies in a virtual exhibit hall. Featured programs will include:
•Waterford Early Learning – As a supplemental digital curriculum, Waterford Early Learning provides explicit, individualized instruction in reading, math, and science for learners from pre-Kindergarten through second grade that is aligned to current state and national standards.
•SuccessMaker – SuccessMaker is a proven digital solution that offers full K-8 mathematics and reading curriculum through a standards-aligned, research-based digital courseware, helping educators meet today's digital natives on their turf and individualize learning with differentiated instruction. The program also offers reporting capabilities that can provide data on an entire classroom or an individual learner to determine student progress.
•NovaNET Courseware – NovaNET Courseware is a web-based learning platform, combining NovaNET's proven high school instructional content with a powerful learning management system. Accessible online, NovaNET Courseware enhances the educational experience for teachers and students by increasing testing options, enhancing customization capabilities, and providing new learning models and more reporting features.
•ELLIS Essentials and ELLIS Academic – ELLIS Essentials, designed for elementary students, and ELLIS Academic, targeted at secondary students, help school districts close the achievement gap for limited English proficient learners of all ages through computer-based, self-pace learning.
The online conference opens June 14 and continues through June 18, 2010. To register for and attend the virtual EdTech Expo, go to http://www.PearsonSchool.com/EdEvolution.
For educators looking for additional opportunities to engage with digital education technologies, Pearson is hosting a live event on June 28 at the 2010 ISTE National Conference in Denver, Colorado. During this event, industry thought leaders Ian Jukes and Lee Crockett will provide interactive discussions. Pearson will also present hands-on demonstrations of the latest educational software and innovations, including wireless enabling solutions and interactive whiteboard programs. More details and registration information is available at http://www.PearsonSchool.com/EdEvolutionISTE.
About Pearson
Pearson (NYSE:PSO), the global leader in education services, technology and school solutions, provides innovative print and digital education materials for pre-K through college, student information systems and learning management systems, teacher professional development, career certification programs, and testing and assessment products that set the standard for the industry. Pearson's other primary businesses include the Financial Times Group and the Penguin Group. For more information, go to http://www.pearson.com.
###