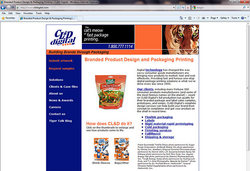 More and more people are using the Internet to research product and service offerings, so ensuring that your website is getting favorable rankings in search engine results pages increases the likelihood that potential customers will find you
Hartland, WI (PRWEB) June 14, 2010
CL&D Digital, a short-run, quick-delivery, new consumer goods products package printing solutions expert that provides sales samples, prototypes, and comps announces a new product launch of its own - its blog and revamped website. Both were introduced last month as a part of a goal to enhance the online experience for its potential and existing customers, as well as to increase CL&D Digital's online presence through search engine optimization (SEO).
CL&D Digital's Tiger Talk highlights news in new product packaging and labeling for product launches and market tests, shares thoughts on internal systems and processes, provides insights on innovation and HP happenings, and divulges all other "tiger tidbits" of information to help educate the world of the benefits of digital package printing solutions. Interested readers and professionals looking to get in on the discussion can enter their email address in the upper right corner of the home blog page to subscribe and get instant access to new posts by email.
The blog can also be accessed from CL&D's new and improved website, with big, user-friendly changes that include a simpler main navigational menu and consolidated pages with more of the information customers need - and all in one place. Internal linking and keyword-rich content has been added to enhance existing solutions pages. New service offering content like rigid material rapid prototyping, which leverages several of the latest manufacturing technologies for modeling and prototyping of bottles and containers, is also now available.
At the end of 2009, CL&D Digital enlisted the expertise of Aloha Digital Marketing, as its SEO consulting partner in Milwaukee. "More and more people are using the Internet to research product and service offerings, so ensuring that your website is getting favorable rankings in search engine results pages increases the likelihood that potential customers will find you," explains Karyn Soergel, president. "A well designed and optimized website like CL&D Digital's typically receives better placement in search engines and is more likely to attract highly targeted prospects that convert."
About CL&D Digital and digital package printing.
Bob Scherer, Vice President of CL&D Digital, is a respected conference speaker and contributor to industry trade journals on the subject of digital technology and digital package printing. In 1995 along with two partners, Scherer established CL&D Digital as one of the first packaging printers to use Hewlett-Packard (HP)/Indigo digital printing technology. The company's customers - including many Fortune 500 consumer products manufacturers - count on CL&D Digital's full production run quality for their package and label sales samples, prototypes, and comps.
Digital printing can help a manufacturer avoid the high costs and long lead times associated with conventional printing. Depending on the quantity and number of colors, digital printing can cost up to half as much as conventional printing - in part because digital printing is achieved direct from the computer without plating. Digital printing can allow for less waste and storage, too, by printing only the quantity needed. It can also provide the flexibility of showing different versions of the same packaging at minimal cost, which offers the capability of moving a product into niche markets once deemed too cost prohibitive.
In addition to digital printing and packaging dry goods including food, candy, coffee, sundries, and personal care items since 1995, CL&D Digital has the capability of overseeing the packaging of refrigerated foods in a constant 38 degree-temperature warehouse, or frozen foods in zero degree-temperature warehouse, both within over 600,000 cubic feet of state-of-the-art, ASI-certified space. CL&D Digital is certified by The American Sanitation Institute (ASI) for food contact packaging and non-food contact packaging.
Members of the media can contact Bob Scherer at 262.569.6732 or 262.391.3984, or email at: bscherer (at) clddigital (dot) com. CL&D Digital can be found on the Internet at http://www.clddigital.com.
# # #