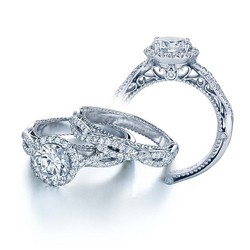 New York, NY (PRWEB) June 14, 2010
Verragio has further differentiated themselves from the competition by expanding their collection of engagement rings and wedding bands to include the new Venetian Collection. The engagement rings within the Venetian Collection not only have a flair for style, but also provide the perfect combination of old-world craftsmanship and cutting edge technology.
Featuring Verragio's signature crown shaped bezel beneath the center stone and meticulous attention to detail as seen in the intricate lace-like work, each engagement ring within the Venetian Collection puts an emphasis on accentuating the side profile.
The Venetian Collection is the first in Verragio engagement ring designs to allow the shopper to choose a a particular look for the bottom portion of the ring. The wearer will actually have the option to customize their particular style by choosing between five different options in shank designs. Whether you prefer a classic look or a bit more intricacy in design, the Venetian Collection aims to please even the most discerning tastes.
"The Venetian Collection is very unique, even for Verragio," says Barry Verragio. "This is the first time we have designed a collection that will offer a choice of immediate customization." The choice of engagement ring and wedding band shank designs will be classifed as Classic, Centro, Lido, Euro and Lace, all in order of increasing design detail.
With new additions to the Insignia, Paradiso and Couture Collections, along with the official launch of the Venetian Collection , Verragio has been fortunate to add eight new retail establishments to their growing family from the JCK Shows.
"The JCK shows have proved to be a great source of exposure for Verragio over the years," says Barry Verragio. "We have not only received a positive response to the new engagement ring collections, but we have been able to establish several more Verragio retailers as official Verragio Premier Boutiques, the ultimate destinations for the latest in Verragio engagement rings and wedding bands."
The Venetian Collection of engagement rings can now be seen on the newly relaunched http://www.verragio.com and will be available in retail establishments this summer.
Verragio specializes in engagement rings and wedding bands of the highest quality and beauty. Verragio is the creator of the Lumino Setting, a revolutionary setting technique that reveals all sides of a diamond, opening up every facet to light. Available in platinum, gold and palladium, Verragio offers designer engagement rings, wedding bands, men's wedding bands and eternity bands that can be seen only in carefully selected, authorized retail establishments. Verragio has been featured in fashion publications such as InStyle, Elle, Marie Claire and W magazine as well as trade publications such as INSTORE, INDESIGN and JQ.
###