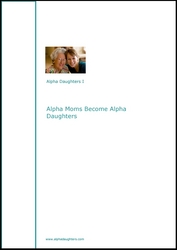 Providing services and technology to help people who care for their parents could also provide an simple route into the healthcare market for companies
Cambridge, UK (PRWEB) June 15, 2010
Alphadaughters.com. There is a 75% chance that a person over the age of 65 will need some form of long term care during the remainder of their life. According to Alphadaughters.com, a service set up to develop next generation health and social care, a large proportion of the care and support that person receives will be provided by their daughter.
Peter Kruger, who founded Alphadaughters.com, and in 2009 identified the Alpha Daughters as an important consumer group in its own right, says; "At a time when governments are desperately looking for ways to cut budget deficits and reduce rising healthcare costs, too little attention is given to the Alpha Daughters who provide billions of pounds worth of care for free and also act as a shadow healthcare service."
Alphadaughters.com believes that supporting family carers would provide a simple and relatively painless way to reform healthcare. As Kruger explains; "Incumbent healthcare providers are sometimes reluctant to use new technology, such as electronic patient records, whereas alpha daughters enthusiastically embrace any innovation that enables them to fit the care of their parents into a busy working schedule." He believes that pound for pound healthcare spending on family carers would have more impact on the well-being of the elderly if it was used to build an efficient supporting infrastructure for family carers rather than merely expanding the facilities of incumbent healthcare providers. "Providing services and technology to help people who care for their parents could also provide an simple route into the healthcare market for companies who are currently finding it difficult to gain traction with mainstream healthcare providers," says Kruger, who goes on to point out; "There are some interesting possibilities here for Public Private Partnerships (PPPs) and the emergence of widely used and accessible online National Health services."
According to Kruger, Alpha Daughters exert their influence in areas beyond healthcare. "They also arrange travel, organise house repairs and make major purchases, such as furniture and consumer electronics, on their parents' behalf," says Kruger, adding, "the Alpha Daughter's role as a proxy consumer is similar to that of the Alpha Mom, a mother who purchases goods and services on behalf of her children and who is either responsible for, or heavily influences, up to 70% of household expenditure".
The Alpha Daughter is, according to a recent report published by Alphadaughters.com, having a wider impact on the economy and could become an important factor in government fiscal and healthcare planning. As Kruger explains, "When baby boomers retire much of their wealth retires with them and they become markedly less economically active than they were during their youth and middle age. This has macro economic implications that governments are now just starting to address." The report "Alpha Moms Become Alpha Daughters" points to evidence that governments are starting to deploy fiscal mechanisms that transfer wealth from elderly baby boomers to younger people who are more economically active, as a means of stimulating economic growth. "Companies need to be aware of the role Alpha Daughters will play in this transfer of wealth and the business opportunity this represents," says Kruger.
The report "Alpha Moms Become Alpha Daughters" is available from http://www.alphadaughters.com
About Alphadaughters.com
Alphadaughters.com helps companies and organisations develop business models and marketing strategies that will enable them to reach the influential 'Alpha Daughter' consumer.
# # #