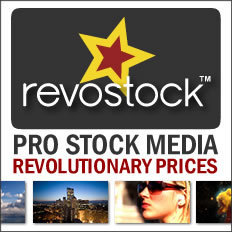 Dallas, TX (PRWEB) June 13, 2010
Throughout the month of June, RevoStock, the premiere Stock Video Footage, After Effects Projects and Stock Music community celebrates their 4th Anniversary by passing special promotions and savings on to their customers and site members!
Using RevoStock's new Bundle system, producers that sell their content through RevoStock are offering incredible bundle discounts on their stock media products throughout the month of June with special birthday savings all the way up to 85% off the retail price!
Currently RevoStock producers have added over 500 discounted stock media bundles, many at discounts of 50% or higher. Bundles created include themed footage packages, two-for-one offers, motion backgrounds, music and sound effects compilations and more! New bundles are being added every week and the growing selection of bundles can be viewed at http://www.revostock.com/BundleSearch.html
In addition, RevoStock is offering a Birthday sweepstakes with the chance to win 1000 RevoStock credits plus 5 more credit prize packages which may be used towards the purchase of any of RevoStock's pro stock media files. Entries may be made through Facebook: http://apps.facebook.com/sweepstakeshq/contests/35424 , Twitter: http://wildfireapp.com/twitter/233/contests/35424 or at RevoStock: http://www.revostock.com/Contest.html.
About RevoStock:
With well over 100,000 pre-screened, pro quality stock media files, RevoStock (http://www.revostock.com) is the premiere stock media website that offers professional SD and HD stock video footage, music, sound effects and After Effects® project files at prices starting at just $5 for Standard Definition footage, $10 for High Definition footage, $10 for music, $3 for sound effects and $15 for After Effects Projects. Media professionals may upload and sell their content, earning royalty rates up to 60%. Clients using RevoStock include NBC/Universal, BBC America, E! Networks, The Discovery Channel and Sony Playstation. A free stock video footage file is available for download each week.
RevoStock: Affordable Stock Video Footage, After Effects Projects, Stock Music and Sound Effects
All product and company names herein may be trademarks of their respective owners.
###