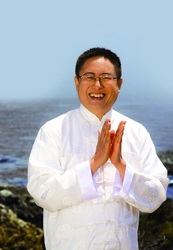 "We are in a special time of transition. Humanity and Mother Earth are facing great challenges. I am extremely honored to bring these new Tao secrets, knowledge, and practical techniques to serve humanity," shares Dr. and Master Zhi Gang Sha
(PRWEB) June 15, 2010
In the newly released sixth book of his best-selling Soul Power Series, Tao I: The Way of All Life (May 11, 2010/Atria/$29.95), Dr. and Master Zhi Gang Sha presents the essence of ancient teachings of Tao in simple, practical terms for our modern world. These mostly hidden secrets are accompanied by amazingly accessible and practical techniques to heal, rejuvenate, prolong life, and transform relationships, finances, and more. Tao I reached #1 on the Wall Street Journal Bestseller List*, # 5 on USA Today's Bestseller List* and is moving up ranks of the New York Times Bestseller List * from #12 to #6.
"We are in a special time of transition. Humanity and Mother Earth are facing great challenges. I am extremely honored to bring these new Tao secrets, knowledge, and practical techniques to serve humanity. This book will empower you to study, understand, practice, and reach Tao with the simplest and most powerful wisdom and practices," shares Dr. and Master Sha.
In addition, this seminal book reveals the Tao Jing, a new "Tao Classic" consisting of seventy-five sacred and powerful phrases for the twenty-first century. Every line carries profound secrets and powerful techniques to transform our lives.
In Tao I: The Way of All Life you will also learn techniques to:

Prevent and remove sickness
Return to the health and purity of a baby
Harmonize with Mother Earth and Heaven
Flourish in every aspect of your life by reaching Tao
A special gift is included with Tao I: a companion audio CD where Master Sha demonstrates many of the major powerful practice mantras featured in the book, so the reader will learn to sing or chant them correctly. He also sings the new Tao Text (Tao Jing) --a major focus of the book and some of his most powerful Divine Soul Songs, including Love, Peace and Harmony and Happy, Happy, Happy.
Tao I: The Way of All Life is another authoritative book for Master Sha's entire Soul Power Series and for our time. As the sole, chosen 373rd-generation lineage holder of Peng Zu (Lao Zi's teacher), who is renowned as the "longevity star," having lived to the age of eight hundred and eighty, Master Sha is sharing the ancient wisdom, secrets, and techniques for these transitional times.
For more information please visit http://www.drsha.com. Tao I: The Way of All Life is available at Amazon.com, BN.com, and at booksellers nationwide.
About the Author
Dr. and Master Zhi Gang Sha is a world-renowned healer, self-healing pioneer, and a servant of humanity and the Divine. He has authored four #1 New York Times bestsellers in his Soul Power Series. Trained as a conventional medical doctor and a doctor of traditional Chinese medicine, Master Sha founded the Institute of Soul Healing and Enlightenment and the World Soul Healing, Peace and Enlightenment Movement. He is a grandmaster of many ancient disciplines, including tai chi, qi gong, kung fu, I Ching, and feng shui. Master Sha is also an expert in the most advanced cellular healing science now occurring in China. In the West, he is involved in breakthrough research on the effects of spirit on the human system. Master Sha was named Qigong Master of the Year at the Fifth World Congress on Qigong. In 2006, he was granted the Martin Luther King, Jr. Commemorative Commission Award for his humanitarian efforts. His Soul Power Series reveals soul secrets, wisdom, knowledge, and practical techniques to transform all life. http://www.DrSha.com
*Wall Street Journal (Hardcover/non-fiction week ending 5/30/2010)
*USA Today (based on Sales through Sunday 5/30/2010)
*New York Times (Advice, How-To, Misc. /Hardcover) week of June 20, 2010
###