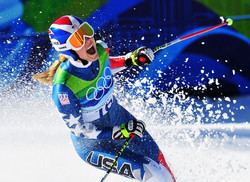 Professional sports demand perfect vision
Los Angeles, CA (PRWEB) June 14, 2010
Lindsey Vonn, 2010 Vancouver Olympic Gold medalist and 3-time overall World Cup Champion Skier, had LASIK performed by Dr. Robert K. Maloney of the Maloney Vision Institute and now has better than 20/20 vision.
An American alpine ski racer, Vonn won the gold medal at the 2010 Winter Olympics in downhill, the first American woman ever to do so. She also won three consecutive overall World Cup championships, 2008-2010, the first American woman and second woman ever to accomplish this. With her Olympic gold and bronze medals, and her 33 World Cup wins, Vonn has become the most successful American skier in history.
"I decided to have LASIK because I noticed that it was becoming more difficult to see the gates and judge the terrain as I was skiing. I couldn't clearly see the terrain on the mountain and the slightest miscalculation could mean the difference between winning and losing," said Vonn. "After doing a ton of research and consulting with my team of doctors, one name kept coming up, and that was Dr. Maloney."
"Professional sports demand perfect vision," said Dr. Maloney. "We are hoping that perfect vision helps Lindsey to more gold medals in 2014. And if LASIK can help an already world-class athlete, imagine how it can enhance the enjoyment of sports for any active adult."
The day after their LASIK procedures, Lindsey tweeted, "I am already seeing 20/20 in both eyes and they expect after a few more days of healing it will be 20/15 in both. My husband only had his right eye done and he is already seeing 20/15. I can't believe how crisp and clear everything is, I'm so excited!"
Robert K. Maloney, MD, MA (Oxon), is a former Rhodes Scholar and Summa Cum Laude graduate of Harvard University. He completed his education at Oxford University and Johns Hopkins Hospital. Dr. Maloney was the first surgeon in western North America to perform LASIK surgery as part of the original FDA clinical trials. He is Clinical Professor of Ophthalmology at UCLA, and director of the Maloney Vision Institute, in Los Angeles, California. Voted by his peers as one of America's top ten vision-correction specialists in a nationwide survey conducted by Ophthalmology Times, Dr. Maloney has trained more than 700 surgeons in the use of the excimer laser, conducted 17 FDA investigational trials, and has personally performed more than 50,000 vision-correction surgeries.
Dr. Maloney may be reached by calling the Maloney Vision Institute at 877 EYESIGHT, or 310-208-3937, or he may be reached through his Web site: http://www.maloneyvision.com
# # #