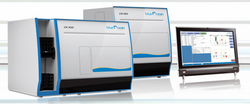 "Our new manufacturing operations will begin in July", says Ernest Thomas, president of Blue Ocean. "Initially, we will have the capacity to manufacture, assemble and test 40 new instruments a month, with the ability to quickly expand as needed."
Hollywood, FL (PRWEB) June 13, 2010
Blue Ocean Biomedical announced the opening of a new manufacturing facility in Miramar, Florida. The new facility will support all the manufacturing and distribution operations for the company's new product line, the CR Series Load & Go™ Immune Monitoring Systems.
"Our new manufacturing operations will begin in July", says Ernest Thomas, president of Blue Ocean. "Initially, we will have the capacity to manufacture, assemble and test 40 new instruments a month, with the ability to quickly expand as needed."
About Blue Ocean Biomedical
Blue Ocean Biomedical, an ISO 13485 certified and privately-held company based in Pembroke Pines, FL, specializes in the development of innovative, automated, Load & Go™ cell analysis systems for immune monitoring and related applications (http://www.blueoceanbio.com). Blue Ocean systems are optimized to address needs for moderate-to-high-demand applications where test results are desired in less time, with greater efficiency and at substantially lower costs. The company's new CR Series Immune Monitoring Systems combine automated sample preparation and analysis in one instrument that communicates with the laboratory's computer system (LIS). Welcome to Load & Go™ Cellular Diagnostics, the Blue Ocean approach to testing, where the sailing is smooth.
# # #