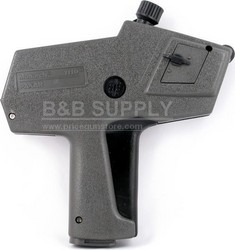 The Monarch labels continue to be our best seller.
Morgan, PA (PRWEB) June 15, 2010
Orders for fluorescent colored price labels on the website http://www.pricegunstore.com increased during the second quarter of 2010. "More of our customers are starting to think about how to grab their customer's attention to help make an impulse buy," explained owner Buz Brown. Bright, fluorescent labels can stick out well on a white or lightly colored product as well as a darker object, drawing in the customer's eye. This quick process will therefore help highlight the competitive pricing of the item and lead to higher turnover of the store's inventory. Warehouses commonly use a fluorescent color pricing label to mark and code the brown cardboard boxes.
"The Monarch labels continue to be our best seller," said Buz. Monarch price labels offer users colors such as red, orange, green, yellow, pink and the very common white. Garvey labels, Meto labels, and Towa labels all offer similar color options. B&B Supply saw orders for colored Monarch 1110 and Monarch 1131 labels increase 15 and 18% respectively over Q1 numbers. "We believe that the changing weather has helped attribute to this as well," explained Dave A, a buyer for B&B. "With good weather, more shops are able to move items outside of the stores to generate more interest in products from the passing foot and auto traffic. Fluorescent labels reflect light, and when many customers have sunglasses on to help deter light, a bright label can really help spark that needed interest in price," Dave explained.
"We have been explaining to our customers that as the fluorescent color of the label helps to pull in the buyer's eye, a great addition to the label is to have their store name custom printed onto it. There is no less expensive way to get your name, phone number, website, or address on every product a store owner sells," explained Buz. Paying attention to subtle details is what makes retail establishments successful.
###