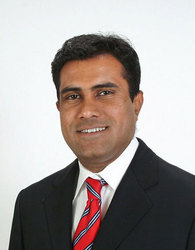 "After servicing clients in California and on the West Coast, we realized it was vital to bring our services closer to a rapidly growing technology market.," Sarav Periasamy, PERI Software
Los Angeles, CA (PRWEB) June 14, 2010
PERI Software Solutions Inc., a global business solutions company will be featured in this month's (June) 20th Anniversary issue of Business Life Magazine. The monthly publication is based in Glendale, California, covering national, regional and business trends and news in tourism, manufacturing, entertainment, international trade, financial services, technology and state politics.
"When I founded PERI Software, I knew in my heart that it was going to be a successful business enterprise," President and CEO Sarav Periasamy, PERI Software Solutions Inc. told Business Life Magazine. "I love it when my team of engineers can provide solutions to help business streamline their costs of operations."
PERI, a global business solutions company, headquartered in Newark, New Jersey. Earlier this year PERI opened offices in the Wells Fargo Tower in the business district of downtown Los Angeles. Additionally, the worldwide company has offices in San Jose and Chennai, India. "PERI started as me becoming a consultant and gradually adding team members," he said. "PERI has grown to more than 700 employees and has earned more than $50 million since I started it in 1999."
"After servicing clients in California and on the West Coast, we realized it was vital to bring our services closer to a rapidly growing technology market. We have just opened an office here, because we believe Los Angeles leads the Pacific Rim in just about every industry and we want to help business grow to meet the technology needs of regional and international markets."
A recent LAEDC SoCal economic forecast finds that technology, tourism, entertainment and international trade will be leading industries to the economic recovery. Research reveals that the business demand for technology products was very weak in the first three quarters of 2009, when businesses were reducing costs drastically in order to survive the recession. But, demand picked up noticeably during the fourth quarter and sales of technology products held up better on the consumer side.
Periasamy was asked "what's the next hot new technology coming up for business in SoCal?"
"Smart Grid technology, mainly used by utilities, and thanks the Obama Administration will be more affordable to customers and consumers," he said. "A Research show that 60 percent of the electricity generated in this country is lost to inefficiencies, and the fact that smart grid technology is green and does not cost more, customers will feel good about saving energy and the environment."
PERI has been offering Smart Grid technology after testing and measuring successful cost saving results over the last two years. "We are the Asian Business Owned Smart Grid Technology leader in this space providing end-to-end smart grid business solutions," he said.
Periasamy is scheduled to speak at the California Utilities Diversity Council's 2010 Green Diversity Summit later this month. The June 28, 2010 Energy Summit takes place at the Sacramento Convention Center. He'll speak about how he grew his successful company from a small startup to global business.
Founded in 1999, PERI is a global business solutions company, which has grown to more than 700 plus employees and delivers high value-cost effective technology based business solutions. PERI draws on deep industry expertise and a portfolio of interrelated consulting, business processes, application development along with smart-intelligent hardware and software products. PERI blends strategic design, proven technology, and timely delivery of solutions that maximize customers return on IT investment. Be sure to visit PERI's blog for company updates and developments
http://perisoftware.wordpress.com.
Editors: For images and advanced media interviews with PERI Founder and President Sarav Periasamy, please call: Aida Mayo or George McQuade at 818-340-5300 or 818-618-9229 or email Publicity(at)MayoCommunications(dot)com.
# # #