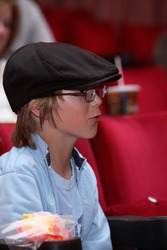 Your efforts to make media a more valuable part of students' lives is critically important, John Wilson, Executive Director, National Education Association.
Santa Fe, NM (PRWEB) June 15, 2010
If you have an 11- to 14-year-old in your life who loves films and dreams of being on the red carpet, KIDS FIRST! has the perfect opportunity. Your tween can participate in the KIDS FIRST! Film Critics' Boot Camp this summer in New York City, Los Angeles or Santa Fe for an experience they will never forget.
Give your child the opportunity to build self confidence and learn more about the behind-the-scenes aspects of the film industry as they critique the latest films, learn to write reviews, practice interview techniques, improve on-camera skills, visit a production studio and benefit from the experience of seasoned professionals. All campers' final reviews are entered into the KIDS FIRST! Film Critics Search and eligible to win one of five coveted KIDS FIRST! National Film Critics' spots.
Leading the KIDS FIRST! teaching team is Janet Davidson, a DGA Director with over 200 episodic and 20 telefilms including Earth 2, Cagney & Lacey, Soul Food, Judging Amy and multiple episodes of Any Day Now. Janet directed one of the New Mexico Governor's Cup winning short films "A Piece of Pie."
In Los Angeles, Judy Sandra, a creative writer, journalist and communications specialist joins the team. Judy covers independent film and film festivals for Moving Pictures Magazine and blogs about communications and culture at JS Media Blog. Her debut novel The Metal Girl was released in February 2010 by JSM Books.
Documentary filmmaker, Nancy Kenney joins the team, with years of teaching experience and a practical knowledge of how to inspire students. A graduate of the Berklee College of Music, Nancy co-founded the Children's Peace Initiative and produces documentary films.
The curriculum explores topics relative to all aspects of film. What is a film critic? Why do they exist? What avenues does a critic have as an outlet for their work? What is the difference between a review and a critique?
Featured in the Boot Camp curriculum is an all new episode of the popular PBS KIDS series, Cyberchase. In "Face-Off," the CyberSquad must analyze a sneaky ad campaign to decide if the cool new Cyberblades are truly the best choice to help Fluff's team win the prestigious Penguia Cup. Annick Obonsawin, the voice of Inez, is scheduled to speak at the NYC Boot Camp at WNET.ORG in New York.
Writing and on-camera experience is key to the curriculum. Each day will end with the filming of each film critic camper and having their performance critiqued by seasoned professionals. . As the film critics develop, they will learn various aspects of what it takes to make a film. What part producers, directors, writers, actors and all the people behind the scenes play in the making of a film. How to analyze a film and what are the main questions to ask yourself while watching a film are explored daily and translated in the film critics written and filmed review. The reviews will be compared to professional reviews, which give the film critics a way to explore different voices of film critics.
The Boot Camp closes with a Red Carpet event and film critics will take home their full week of "viewing and reviewing" on tape. Their final reviews will be critiqued by a panel of judges and posted on the KIDS FIRST! website and entered into the KIDS FIRST! Film Critics' Search which begins August 1st.
KIDS FIRST! Film Critics' Boot Camp locations include:

New York City, WNET.ORG, July 26 - July 30, 9am - 4pm
Los Angeles, CA, The Georgian Hotel - Santa Monica, July 19 - July 23, 9am - 4pm
Santa Fe, NM, Warehouse 21, August 9 - 13, 9 am - 4pm.
For more information and to register, go to http://www.kidsfirst.org/become-a-juror/BootCamp.html. Please act soon, because space is limited. Tuition $425. Limited number of scholarships available.
This KIDS FIRST! Film Critics' Boot Camp and Search is supported by Toys R Us, Anchor Bay Entertainment, National Education Association (NEA), National Council of Women's Organizations (NCWO), the National Association of Elementary School Principals (NAESP), Stepping Stones Entertainment, Starz Kids & Family and WonderWorld Entertainment. Special thanks to WNET.ORG and its acclaimed kids' math series Cyberchase for their involvement as the destination site in New York and as one of the programs featured in the Boot Camp curriculum.
KIDS FIRST! is a program of the 19-year-old, national, nonprofit organization, Coalition for Quality Children's Media whose mission is to teach children critical viewing skills and to increase the visibility and availability of quality children's media. The Coalition is a voluntary collaboration comprising more than 10,000 media professionals, lobbyists, policymakers, child advocates, educators, parents and families nationwide. For more information visit http://www.kidsfirst.org.
Contact: Ann Church, Senior VP Marketing
KIDS FIRST!
112 W San Francisco Street Suite 305A
Santa Fe, NM 87501
505-989-8076 ann(at)kidsfirst(dot)org
# # #