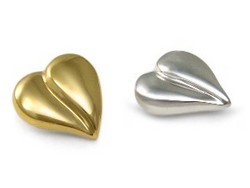 "I was never a fan of sitcoms with a continued theme of cheap laughs at the expense of the dad. It has been my unwavering passion to create unique, keepsake gifts for men that let them know they are loved and respected." - Jean Schnaak, LHC Designer
Cary, NC (PRWEB) June 12, 2010
Passionate about honoring Dad on his special day, jewelry designer Jean Schnaak created unique, keepsake gifts for men, perfect for Father's Day and everyday.
"Father's Day is the perfect occasion to acknowledge a father's irreplaceable role in the family and in the life of his children. Instead of a card that gets tossed away, give him a gift that symbolizes the love and respect of his family every day," emphasizes Schnaak.
The most popular keepsake gifts for men from the The Loving Heart Collection are the Pocket Heart™ and the Loving Heart™ Pin.
Both designs are easy for men to carry with them each day while at work or play.
The Pocket Heart™ mingles well with coins in a pocket. Each time dad reaches into his pocket, he will be reminded of the love of his family. If he enjoys golf, send him out to play this Father's Day with a symbol of his family's love for him that doubles as a unique ball marker. It may turn out to be his lucky charm!
The award winning Loving Heart™ Pin is the only keepsake gift of heart jewelry specifically created for a man to wear hidden inside of a favorite jacket over his heart. In that discreet location, it serves as a private reminder of the love of another and the special bond they share.
"The first Loving Heart™ Pin was created as a gift for my pilot husband to wear hidden inside his airline jacket over his heart," explains Schnaak. "An accompanying verse card read, Whether you are near or far we will always be heart to heart."
Customer testimonials reveal that the designer's clients love the simplicity and quality of her gifts for men. "Many wives, girl friends, brides, daughters and men thank me for creating quality, keepsake gifts to symbolize their love and affection for the special men in their life." Each gift of fine jewelry from the Loving Heart Collection is accompanied by a customized, elegant verse card. Loving Heart™ verses are available in nine languages. Customers may create their own sentiment.
Loving Heart, LLC anticipates strong sales this season for Father's Day gifts. Loving Heart™ gifts for men are favorites among couples separated by travel or military service, couples celebrating an anniversary and brides looking for a sentimental gift for the father of the bride. Prices range $50 -$1,500.
Loving Heart, LLC
Founded in 1995, Loving Heart LLC is lead by Jean Schnaak, entrepreneur, professional nurse and jewelry designer. The company's mission is to make the world a better place, one relationship at a time.
Follow Us on Facebook:: Loving Heart
# # #