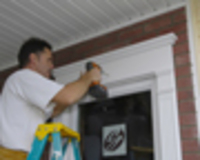 When we renovated our 100+ year old home, we decided on ENERGY STAR® qualified vinyl windows
Wauseon, OH (Vocus) June 16, 2010
As a child, a large cardboard box with cut-out windows made a great playhouse. However, as you grew up, you wanted your home to have more appeal and real windows. After crossing the threshold to homeownership, it's time to consider more than cardboard for your home's exterior.
"The outside of your house is much more than just a reflection of your lifestyle or the architectural design of the structure," says Tina Mealer with Fypon®. "Your home's exterior has essential elements --- like siding, louvers, windows, a roof and doors --- that all join together to protect what's inside your home."
Due to the fast-paced lives of many families, these days the exterior of the home needs to be especially easy to maintain. And, with severe weather cropping up in many areas along with the need for energy-efficient products, the selection of your home's exterior products is critical.
"Think about your home from the top down," advises Mark Clement, carpenter and co-host of MyFixItUpLife.com website and radio show. "Start with the roof overhead that needs to protect your home from rain, sleet, snow, hail and even potential lightning strikes. Consider the stress factors placed on a roof over time plus the need for long-term durability.
"After doing a vast amount of research, I chose maintenance-free DaVinci Roofscapes® slate synthetic roofing tiles for my own home. These eco-friendly roofing tiles have a 50-year warranty, are fire-resistant and can help many homeowners lower their homeowner insurance premiums. Once installed, I can practically forget about the roof for five decades --- except for enjoying the way it looks!"
Moving down the sides of the house, homeowners are often disappointed by paint that fades, flakes or chips. One company has developed an exterior paint that is warranted for 15 years against fading. NeverFade™ paint from APV Engineered Coatings® can be applied to vinyl siding, PVC, wood, aluminum siding, stucco, masonry, and fiber cement surfaces. The top-quality paint resists mold, fungus, algae, flaking, chipping and staining, making it an essential exterior product for the home.
The sun's harmful rays can do more than fade the paint on a home --- they can enter a house through its windows. Unchecked, the harmful ultraviolet (UV) rays can damage carpeting and solar heat gain can cause energy bills to soar. Energy-efficient vinyl windows with highly protective LoE glass packages are vital to help reduce energy costs.
"When we renovated our 100+ year old home, we decided on ENERGY STAR® qualified vinyl windows," says Clement. "As a remodeling professional, I fully believe that energy-efficient windows are a critical investment for a home. The Simonton windows we installed provide excellent thermal performance and look beautiful from both the inside and outside of our home. They were a highly-efficient and attractive choice that provides us with both comfort and peace-of-mind."
After the structure of your residence is in place, it's time to take care of embellishments that turn the house into a home. Low-maintenance urethane shutters, mouldings and trim pieces that surround windows and doors come in hundreds of styles and sizes, allowing you to customize your home's exterior.
Ventilating urethane louvers that permit airflow into your attic and allow your home to "breathe" and come with durable insect screens. And, Fypon, the nation's leading millwork manufacturer, also offers porch posts, column wraps, balustrade systems and decorative millwork pieces in both insect- and weather-resistant urethane and PVC for the home's exterior.
"As children, we used crayons to draw on the cardboard houses we created," says Mealer. "As adults, we install urethane products to create embellishments. Actually, it's much more fun to be a grown-up and have the selection of hundreds of decorative and functional millwork pieces to enhance our homes. As a bonus, remember that the cardboard house falls apart in bad weather. Urethane and PVC products, just like synthetic roof tiles and vinyl windows, are impervious to rain and humidity, decay, rot and termite infestations!"
Release: http://fypon.mediaroom.com/index.php?s=press_releases&item=101
Photography: Contact Kathy Ziprik at kziprik(at)aol(dot)com or 828-890-8065
For more information visit:

###