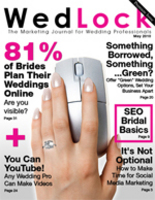 Many of us had worked in the wedding industry and could never figure out why there wasn't a monthly trade journal for wedding professionals
Atlanta, GA (PRWEB) June 14, 2010
They're the unsung heroes of the enormous wedding industry. They sit in the back of the room wearing suits or tuxes, making sure every wedding runs smoothly. Quietly, unobtrusively, they make millions of bridal dreams come true. But who's helping them learn wedding marketing? Who's showing wedding professionals how to find more brides and grow their businesses?
"We thought it was crazy!" says Jayne Hallock, Editor in Chief and Co-Founder of WedLock Magazine, "Many of us had worked in the wedding industry and could never figure out why there wasn't a monthly trade journal for wedding professionals. One that taught great wedding marketing ideas, month after month. There are books, there are magazines for gown shops, there are seminars, but no monthly program for the industry as a whole. Once we factored in our publishing and marketing experiences - it became a no-brainer for us to launch this magazine."
WedLock Magazine is the brainchild of the four partners of EverSpark Interactive, an SEO and marketing agency: Jason Hennessey, Chris Watson, David Hallock and Jayne Hallock. Before forming EverSpark, the partners had successful careers in the publishing field, the wedding industry and an award-winning marketing agency. They eventually all met while working at a company that taught internet marketing to small business owners.
There, the team helped publish a wildly popular marketing magazine (called "The Net Effect") which taught readers how to maximize their profits online. Once they were out on their own, the EverSpark partners realized that all of their combined expertise created the "ideal breeding ground" for a robust, cutting-edge marketing and trade journal for wedding professionals. This time, it would serve a market that had never seen its own marketing journal. WedLock Magazine's marketing system is much more than just a flimsy journal. It includes:
1. Glossy 40 page journal: More wedding marketing 'handbook' than magazine - this journal is packed with actionable advice. Issue One features writers from big wedding industry names like WeddingWire.com and WeddingSolutions.com and teaches wedding vendors a host of useful marketing practices like how to write copy that brides love, how to rank for wedding-related terms and how to leverage YouTube and more.
2. Monthly Marketing Plan: Also included in every single issue is something of a "monthly marketing plan." This is an invaluable tool for the busy professional who just wants to know what to do and how to do it. This way, readers don't just learn theory about marketing - they are handed a clearly spelled out "To Do" list.
(It's kind of like a personal trainer for your business!)
3. Two monthly live, interactive webinars. WedLock readers are sent a private login code to two evening webinars, each lasting around two hours. These webinars featured top wedding marketing experts teaching cutting edge tips and taking live questions! Recordings of these webinars are available to WedLock readers, so they don't miss a moment of top-notch instruction.
4. Fantastic one-time 5 hour bonus DVD course: And finally, for a limited time every subscriber to WedLock Magazine also receives a DVD course entitled "Bridal Traffic". This is five hours of visual, step by step, easily understandable instruction on how to make a wedding professional's website rank well on the search engines. (This is called "Search Engine Optimization" or "SEO") Wedding pros who have watched this series - taught by Jason Hennessey and Chris Watson - marvel at how fun and understandable WedLock has made the normally intimidating subject of SEO.
For more information about WedLock call 800-318-5059 and ask for Jayne Hallock. Or you can email her directly at jayne(at)wedlockmag(dot)com
# # #