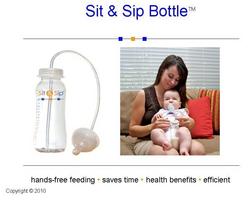 San Diego, CA (PRWEB) June 13, 2010
Acute ear infections account for 15 - 20 million visits to the doctor each year in the U.S. Acute otitis media (AOM) is an infection in the middle ear that can occur at any age but is most common between the ages of 3 and 18 months. Chronic ear infections may lead to hearing, speech and learning impairments.
Feeding a baby in a horizontal position with a standard bottle is a leading cause of Otitis Media (OM; a.k.a. middle ear infection). Other causes may be pacifier use, 2nd hand smoking, or a developing immune system. An infant may be prone to ear infections with bottle feeding in a horizontal position because of its developing Eustachian Tube (ET) in the ear. This tube regulates air pressure & sound, is lined with mucous and drains fluid into the nose and mouth (similar to a sinus). It is initially short and positioned ~100 angle until the infant grows into a toddler where it then stretches longer and is angled at ~450 for better drainage.
Bottle feeding in a horizontal position may cause a backflow of milk into the ET that leads to a bacteria infection (due to the ET anatomy and opening of the ET canal when swallowing or yawning by a baby trying to equalize negative air pressure). Another form of OM may evolve when negative air pressure builds up while a baby continuously sucks on a bottle; making it hard for the ET to equalize pressure (a baby is fed ~every 3 hours for the initial 6 months and each feeding may take up to an hour). This vacuum effect can be demonstrated when one continuously drinks bottled water (e.g., EvianTM) and the bottle shrinks up. This effect is more visible in the softer plastic of bottled water than it is in the harder plastic of a baby bottle.
A San Diego based company has a practical solution called the Sit&SipTM bottle--a hands-free, upright feeding bottle. This smart feeding method is a breakthrough and improvement over the existing hand held bottles. The technology utilizes modular parts, hygienic, environmentally friendly materials, easy to grip, ergonomic design and medical grade engineering and venting.
The Sit&SipTM bottle is strategically designed as a smart feeding kit in addition to being compatible with most standard baby bottles on the market. This infant bottle can also convert into a toddler sippy cup. The Sit&SipTM bottle is designed for end users ranging from a few months to 3+ years.
Although many mothers advocate breastfeeding, the estimated $4.8 billion U.S. infant formula market shows that bottle feeding is widely practiced. A working mother goes back to work after a 3 month maternity leave while a baby uses a bottle up to 12 months, and an additional 3 years on a sippy cup. Most ear infections occur between age 3 months and 3 years (Otitis Media is most common between age 3 - 11 months).
Most importantly feeding in an upright position is recommended by ENT (Ear Nose Throat) doctors and the American Academy of Pediatrics. The health benefits for babies are vital. These include a drastic reduction in colic and bacterial ear infections. Bottle feeding a baby in a horizontal position may result in a large amount of air intake and negative air pressure. This air pressure build up in the baby's Eustachian Tube (ET) has been linked to colic.
More than 10 million U.S. children under the age of three are treated for ear infections every year. Annual U.S. ear infection treatment costs >$4 billion (i.e., parent's time/wage lost from work, doctors' visits, antibiotic prescriptions, and surgical tympanostomy tube insertions). There is a rising rate of tympanostomy tube procedures that may not be an effective remedy.
Clearly the need for quality baby bottles is substantially growing as they demonstrate the practical, medical and financial benefits. The Sit&SipTM bottle is engineered for easy and healthy performance. After all, wouldn't any parent want what is best for their baby?
REFERENCES
R. Paul Fulmer, MD, ANATOMY AND PHYSIOLOGY OF THE EUSTACHIAN TUBE
Dept. of Otolaryngology, UTMB, Grand Rounds April 29, 1992
Janet Zand L.Ac., O.M.D. (Excerpted with permission from Smart Medicine for a Healthier Child
Published by Avery Publishing Group), 1994
C.E. Brown and B. Magnuson, International Journal of Pediatric Otorhinolaryngology. June 2000, Vol. 54
Update on Otitis Media by Cecilia Tran, MD, July 2005
American Academy of Otolaryngology -- Head and Neck Surgery 2009
Lawrence Kleinman, MD, Pediatric Academic Societies (PAS) 2009 Annual Meeting:
Abstract 4525.7. Presented May 4, 2009
Business Communications Company, Inc, The Infant Formula Market 2004
Kevin Katenmeyer, MD and Ronald Deskin, MD, Dept of Otolaryngology -- HNS, UTMB, February
1999
Merck Manuals Online Medical Library; Acute Otitis Media
###