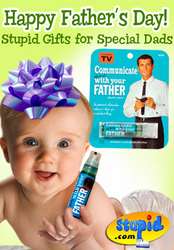 Would Dad rather play beer pong than a good ol' game of catch? Then he's sure to love Stupid.com's Grow Your Own 6-Pack Kit - maybe even more than you.
Los Angeles, CA (PRWEB) June 14, 2010
Whether he forgot to wear pants to your ballet recital, or blew off your birthday to get sloppy drunk with his buddies, a Deadbeat Dad can be difficult to shop for – especially with Father's Day right around the corner.
So for those who's love for Dad is less than unconditional, Stupid.com, the online guru for crazy gag gifts and insane novelties, has the perfect Father's Day gift guide to buying for every different type of Deadbeat Dad:

The Dad Who Loves His Drink More Than You: Would he have rather played beer pong than a good ol' game of catch? Then he'll love a Grow Your Own 6-Pack kit, which contains everything he'll need to harvest his own refreshing brewskies. Or maybe a classic Belching Beer Pager? Sure, he never remembered to pick you up after school, but now he'll never forget where he last left his Bud Light.
The Dad Who's Always Broke: Were his child support checks always getting "lost in the mail"? Then he probably wrote the book on How To Get Into Debt, but you can always get it for him anyway from Stupid.com, just in case he needs a few reminders on ways to waste his dough that don't involve buying you birthday gifts.
The Dad Who's Been To Jail: Does he take more trips to the slammer than to the grocery store? Then a pair of Giant Inflatable Handcuffs are sure to make him smile – and keep him out of trouble, at least while he's playing with them. And a Musical Washboard Tie is a great way to keep him singin' the blues while he's in the clink.
The Dad Who Just Doesn't Understand: Is he easily confused by terms like Twitter and LOL? It may not be a gift for him, but grab yourself a bottle of Stupid.com's Instant Communicate Effectively With You Father Spray, and watch the gap of generations magically disappear!
And, of course, The Dad Who Just Wasn't There, literally: 2 words – Inflatable Dad. Now you can have hours of fun remaking those lost childhood memories. Sure, it'll be with a 5-foot tall vinyl piece of hot air, but who's judging? Not us!
About Stupid.com - Founded in 1998, Stupid.com has been spreading stupidity one gift at a time for over 12 years now. For all the craziest, stupidest, and most hilarious Birthday, Holiday, and Anytime Gifts, visit Stupid.com today.
Follow Stupid.com on Twitter (@StupidCom)
Become a Fan on Facebook by Searching "Stupid.com"
###