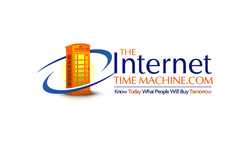 "We see huge growth in these two areas with very little supply out there to satisfy growth. This will be create a huge return on investment in a very short time"
Middleton, MA (PRWEB) June 20, 2010
With the advent of large scale data mining and text analytics software, the Internet Time Machine has broken new ground in trend analysis. By monitoring worldwide search volume and keywords on search engines, and then comparing it to supply, or "results" in worldwide search, the Internet Time Machine software is able monitor what people are looking, yet can't find.
"We are always excited when the software is able to find a strong emerging trend with high search volume from around the world and little or no supply to satisfy that search volume." says founder Curt Dalton. "The vast trend and analytics intelligence out there only looks at demand, like the "Hot 100" or something like that, but we study supply as well. We are able to create a supply/demand curve to monitor what people are looking for and what is a new trend, yet also know that supply, or information out there on the subject, is not keeping up with demand."
The software, which runs on the new search engine, NowRelevant.com, recently showed an emerging trends with huge demand growth and very little supply. "The most recent alert we got centered around Facebook social media games." says Curt. "As Facebook has grown, so has the competition level to create the next Farmville or Mafia Wars. The real money making niche with little or no competition is creating a game guide, or cheat sheet, for these games. The most popular Farmville cheat sheet course online is making hundreds of thousands of dollars a month, and if you know what are the five fastest growing games on Facebook, you could be the first one to have a guide or course out there on it." says Curt. "We did a social media niche post and video for people where we showed viewers how we picked up this trend and how we figured out the fastest growing games on Facebook."
The forum section of the Internet Time Machine's website has been active with members collaborating on ideas and teaming up on projects to produce guides.
The second alert coming from this niche marketing software centered around the huge growth in demand for online training videos. With the current economic situation forcing so many people back to educational degrees and new training, the demand for certain trainings and information has skyrocketed. "Since we study supply and demand, we are able to find the training people are looking for online but that no one is offering yet." says Ali Khan, chief technical officer of The Internet Time Machine. "There are over 300,000,000 broad based searches on the term 'pivotal response training video' worldwide and no one has a course or ebook out there on it." says Khan. "Potty training regression videos or courses would do very well online right now as well. Millions of searches worldwide for potty training regression help and not much out there." The new post and video about the "20 Top Trainings People Are Looking For Online" went live recently and his getting heavy online buzz. "Response has been great since we went live to the public and we continue to grow the software and the new search engine out."
# # #