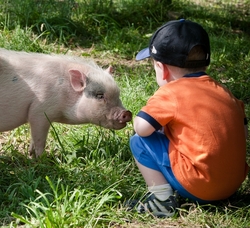 Saugerties, NY (Vocus) June 13, 2010
Catskill Animal Sanctuary's Sunday Shindig!!
June 13, Noon to 6, Admission is Free
5 Reasons You Just Gotta Go
5. Meet Rambo (3 rows down, 4th photo to right), the guardian sheep who saved a pig, two turkeys, and three llamas, and Noah, the horse two vets said would never walk again (photo right below Rambo), and their 250 friends!
4. Hear the remarkable story of how a 100-acre junkyard was transformed into one of the world's leading sanctuaries for rescued farm animals.
3. Experience the food magic of The Good Chef Kev, Director of Compassionate Cuisine and share a Green Guru Smoothie with Kris Carr of Crazy Sexy Life!
2. Boogie on a hayride, bid at the auction or bop to the mooo—oosic of Marc Black, The Roulette Sisters, and others!
1. Walk the farm with author and founder/director Kathy Stevens, enter the animal pastures, and hear the story of how 1,700 rescued animals came to call CAS home.
Bonus Reason #6: Do it all without spending a penny!
This year's Shindig is free to the public, in service and support for our community during the current economic times. Donations are 100% tax deductible and support the Sanctuary's vital education and rescue programs. They will be matched as part of a $1.5 million matching campaign.
Catskill Animal Sanctuary is a 100-acre haven for abused horses and farm animals located in Saugerties, NY. It is the first sanctuary in the country to be 100% solar-powered, as well as the first to offer a vegan cooking program. Kathy Stevens' second book, Animal Camp, will be released in September and can be pre-ordered on Amazon.
Catskill Animal Sanctuary, 316 Old Stage Road, Saugerties, NY 12477
http://www.CASanctuary.org, 845-336-8447
###