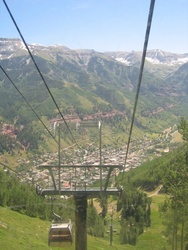 The area offers a surprising number of free activities to help visitors experience that beauty.
Telluride, CO (PRWEB) June 14, 2010
Whoever said nothing in life is free? Visitors will find that in Telluride, much like in life, many of the best things are free. This summer, the team at Telluride Alpine Lodging has complied their list of the top 15 free things to do in town.
1. Gondola Ride - Catch a ride on the free Gondola that connects the towns of Telluride and Mountain Village. Open 275 days per year from 7am to Midnight (2am on big festival weekends), this scenic ride is a must do. The short, 11 minute ride will leave first-time riders speechless as they are surrounded by 13,000 foot peaks.
2. Bridal Veil Falls – Where is Colorado's tallest waterfall? Bridal Veil Falls is right in Telluride's backyard and is accessible by hike, bike, or 4 wheel vehicle. This is a beautiful historic site to see while visiting Telluride. This is one of the best photo opportunities in Telluride, so a camera is a must.
3. Farmers Market – South Oak Street becomes packed with regional farmers, fresh produce, and local crafts every Friday afternoon. Telluride residents and visitors take an afternoon stroll through the Farmers Market and support local growers!
4. Telluride Town Park – There is no better place to spend an afternoon in the summertime sunshine than Telluride's Town Park. When Town Park Stage isn't being used for a major festival, take advantage of the kid's fishing pond, playground, soccer & softball fields, tennis courts, horseshoe pits, volleyball court, skateboard park, and more!
5. Free Festival Events – Our famous summer festival season provides free events for locals and visitors. Mountainfilm hosts a gallery walk & breakfast talks with special guests; Balloon Rally offers a beautiful early morning liftoff and nighttime glow on Main Street; Heritage Fest offers Butch Cassidy's first robbery reenactment, gold panning demonstrations, and more; Bluegrass Festival offers free performances & workshops in Elk's Park; Plein-Air Fest offers hand-painted exhibits inspired by our backyard by nationally known artists; Fireman's Fourth of July features a classic parade for the entire family and a firework show that rivals any that I've ever seen; Film Festival offers free outdoor films in Elk's Park; Blues & Brews offers a free acoustic & blues competition.
6. St. Sophia Nature Center – Located at the halfway station of the Gondola, the Nature Center features wildlife exhibits, hiking trails, and the beautiful scenery.
7. Adventure Rock – Test your rock climbing/bouldering skills on the giant climbing rock in Mountain Village. Shoes and an assistant are available at climbing boulder.
8. Mountain Village Bike Park – The brand new bike park offers numerous trails for downhill riders of various levels and skills.
9. Fireside Chats – Every other Thursday, the Telluride Museum presents fireside chats with intimate history lessons of Telluride and its surrounding regions. Fun for the entire family!
10. Elk Pond – Fish two of Mountain Village's stocked ponds (Across from Boot Doctor's and MV Fire station). Also be sure to check out Bootdoctors' free fly fishing clinics offered throughout the summer.
11. Sunset Concert Series – Each Wednesday, Mountain Village presents an up-and-coming musical performers to the sunset plaza. Bring a blanket, some food, and dancing shoes!
12. Mountainfilm's Outdoor Series – Stretch out under the stars and watch a selection of films from past Mountainfilm Festival entries.
13. Frisbee Golf – Mountain Village offers an extensive Frisbee Golf course, weaving in and out of the thawed ski slopes. The course is free. For guests without their own equipment, a full set up is available from rent from BootDoctor's.
14. Hiking –The hiking in Telluride can't be beat! Almost any trail is going to provide a breathe-taking view and sometimes even a look at old mining structures still intact. Some popular hikes around town are: Bear Creek, Jud Wiebe, Imogene, Sneffels Highline, Ajax, Blue & Silver Lakes, and much more!
15. Free Box - A "Telluride Tradition" located right off Main Street, the name says it all. The Free Box is a place to exchange clothes, small trinkets, books, and many other trash or treasures.
Telluride Alpine Lodging offers a varied range of vacation rental accommodations throughout Telluride and Mountain Village, Colorado. We feature a large selection of hotel rooms, one, two and three bedroom condominiums and premier homes – each offering a diverse range in location, décor and price.
###